11 Homemade Headstone Ideas
When it comes to headstones, many families are surprised at the steep cost associated with traditional looking headstones -- often over $2,000. Even grave markers, which are much cheaper than headstones, can still cost a family over $100. Making a headstone yourself is a great alternative, especially to those who want to create something in memory of a loved one and/or have something that feels a little more personal. Homemade headstones are also great ideas for those who want to mark the grave or favorite spot of a family pet or companion. These headstones can also be used to mark the spot where a loved one's ashes were scattered.
Before you get started
If you are intending on making a homemade tombstone from scratch for a gravesite at a cemetery, it's very important that you call or contact the cemetery beforehand. Every cemetery has their own set of headstone rules and restrictions, so you'll want to make sure they'll accept a homemade headstone on the grave itself.
If you don't feel that you have the skills or time (or desire!) to make a custom DIY headstone, you can always find affordable options on Ever Loved.
You can also always make a headstone in addition to a professionally made headstone if you have multiple spots you'd like to mark the loss of someone. Making a headstone on your own can help you feel that you're actively working towards something and have hand-crafted something in honor of your loved one who passed away.
Wooden markers
A wooden DIY headstone can be made out of any type of wood and decorated in a way you find special. When making a headstone out of wood, you could consider a few different types of styles including a wooden grave marker, a wooden cross, or a few planks together in the shape of a traditional headstone. The type of wooden headstone you make will depend on the materials you have available, your comfortability with woodworking, and the type of style that appeals to you.
In terms of simplicity, it's often easiest to make a wooden cross, followed by a wooden grave marker, followed by a wooden headstone.
Wooden marker examples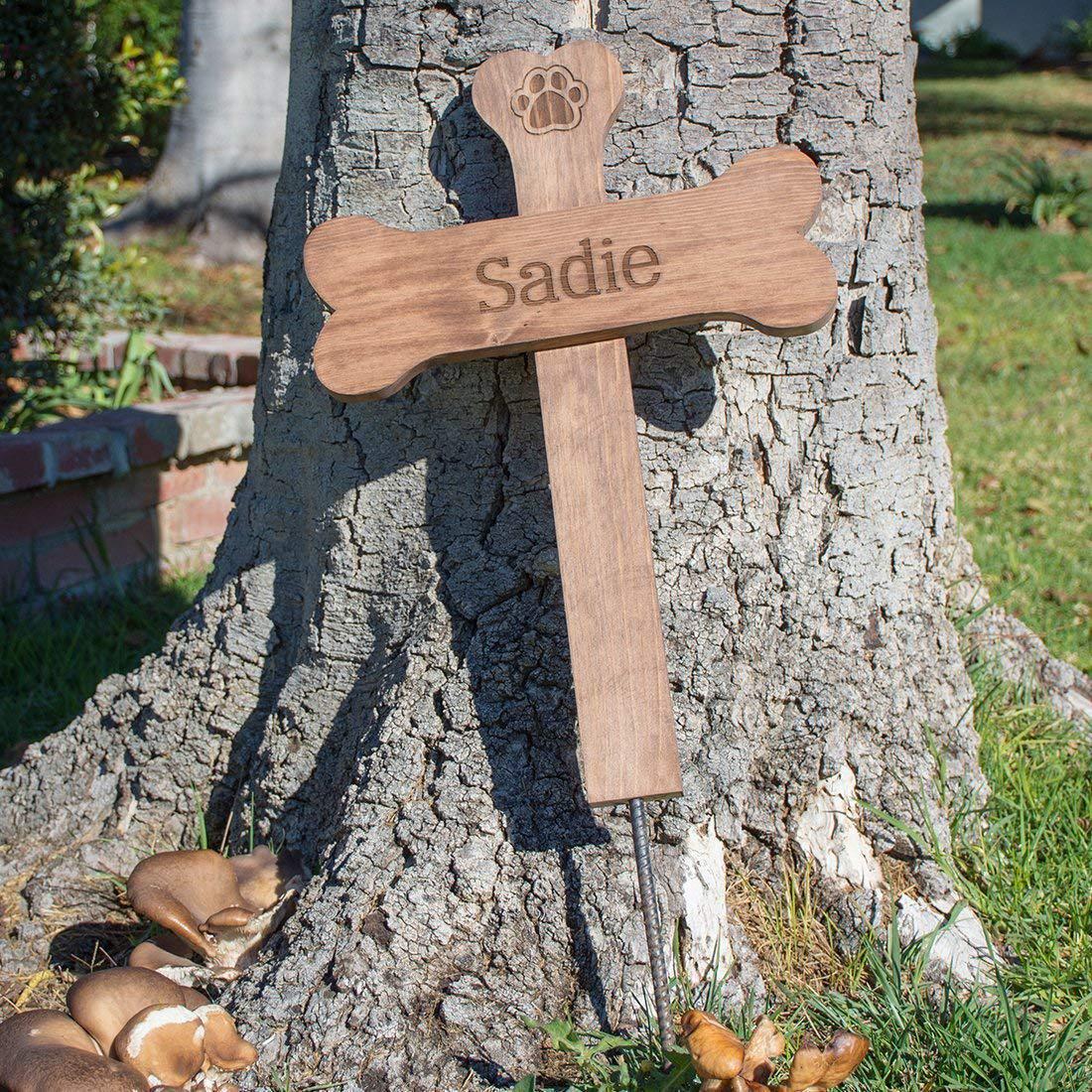 (Source: Amazon)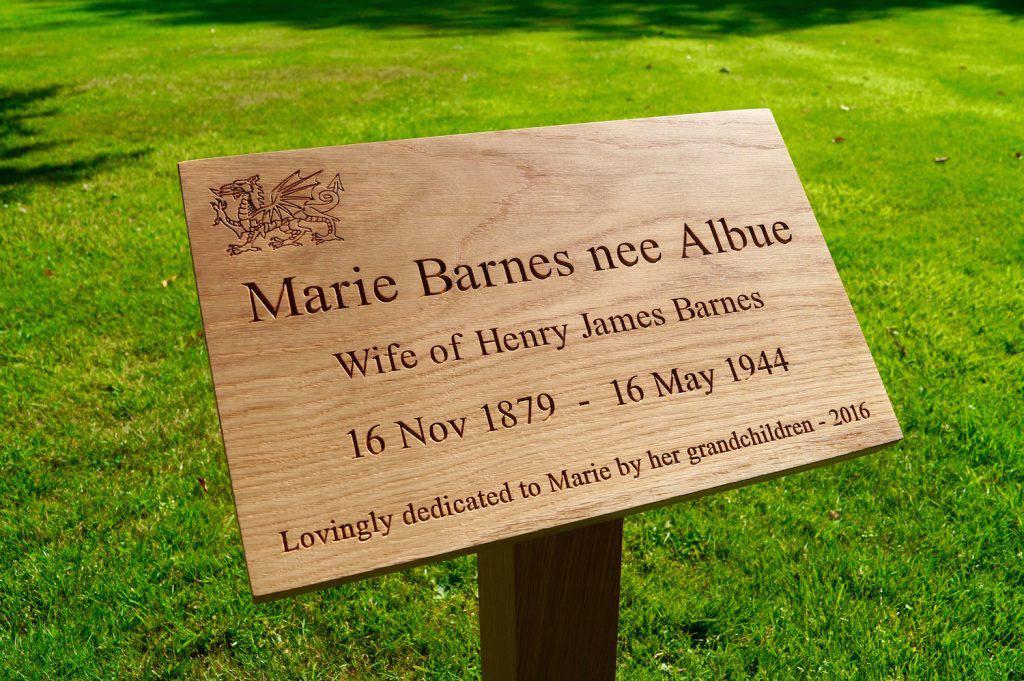 (Source: Make Me Something Special)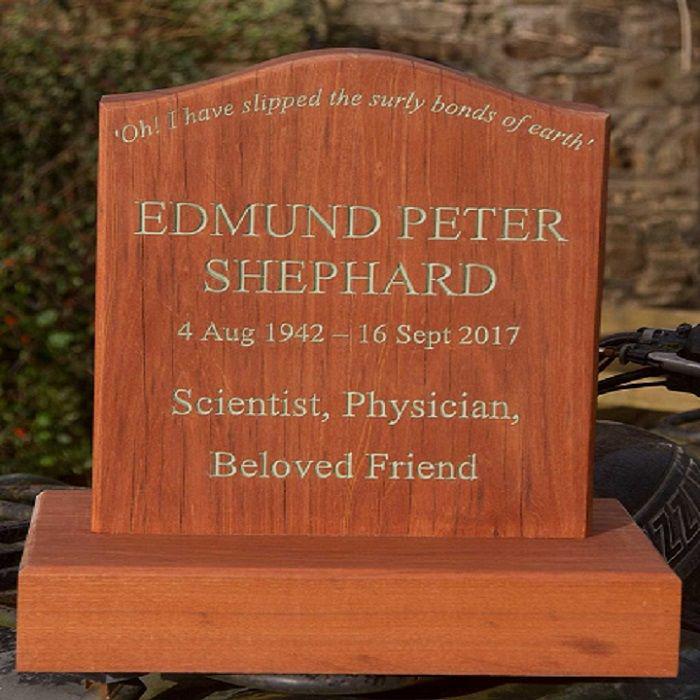 (Source: UK Memorials)
When working with wood, you'll want to consider a few pros and cons.
Pros:
Wood is much cheaper when compared to granite or other materials headstones are typically made out of.
If you already have experience working with wood, this can be a relatively easy project.
You have the option to paint, engrave, or burn the wood with your chosen design of choice. Wood comes in a variety of shades and types, letting you personalize it a bit more.
Cons:
Wood deteriorates and weathers faster than granite or headstones made out of rock.
Wood can get expensive, depending on the type and quality of wood used.
Wood can be difficult to work with if you don't have the right tools on hand.
The engraving may need to be done by a professional.
In terms of homemade headstone ideas, wood can be one of the easiest materials to work with, especially if you have basic knowledge of woodworking.
Cement markers
A cement grave marker is a relatively easy and inexpensive alternative to a professionally made headstone. While this process is more involved than other ideas listed here, it does allow for a more traditional looking headstone, including your choice of engraving.
Here's a list of materials you'll need in order to make a DIY grave marker out of cement:
Cement or mortar mix (one 80 lb bag can make a larger traditional headstone, so purchase accordingly)
A large plastic tub for mixing cement
2x4 pieces of wood (and a bottom piece of wood), for the frame
A shovel for scooping out concrete mixture
Screws
A screwdriver
Letters and number stepping stone stamps, if desired
Paint, if desired
Here's how to make a tombstone out of concrete:
Purchase your materials.
Spread out a large plastic sheet or garbage bags on which to work.
Build a rectangular frame out of the pieces of wood, held together by screws for easy disassembly.
Lay out the exact order of the letters and numbers you're going to want on the headstone. Do not wait until the last minute or until the concrete is wet to figure out what you're going to want to stamp into the concrete. Once the concrete mix is ready to be stamped, you're going to need to go quickly. Double check for accuracy.
Once you have all the materials ready, the frame ready, and the stamps ready, it's time to start mixing the concrete mixture. Pour concrete into large plastic tub and water, according to the directions.
Mix the mixture until it reaches a peanut-butter-like consistency.
Shovel the concrete mixture into your frame, smoothing it with a piece of wood or trowel.
Start stamping in the letters / numbers you chose to have on the headstone and adding any designs. You'll usually have a short window of time (around 30 to 45 minutes) to accomplish this, so try your best to be accurate and go quickly, without making any mistakes.
Let your headstone cure and dry according to the instructions.
Once your tombstone is completely dry, remove the frame by unscrewing the pieces of wood from the sides and let it cure for a bit longer, at least a few days.
Place your homemade DIY tombstone in your garden, on the gravesite, or wherever you'd like to place it.
Cement grave marker examples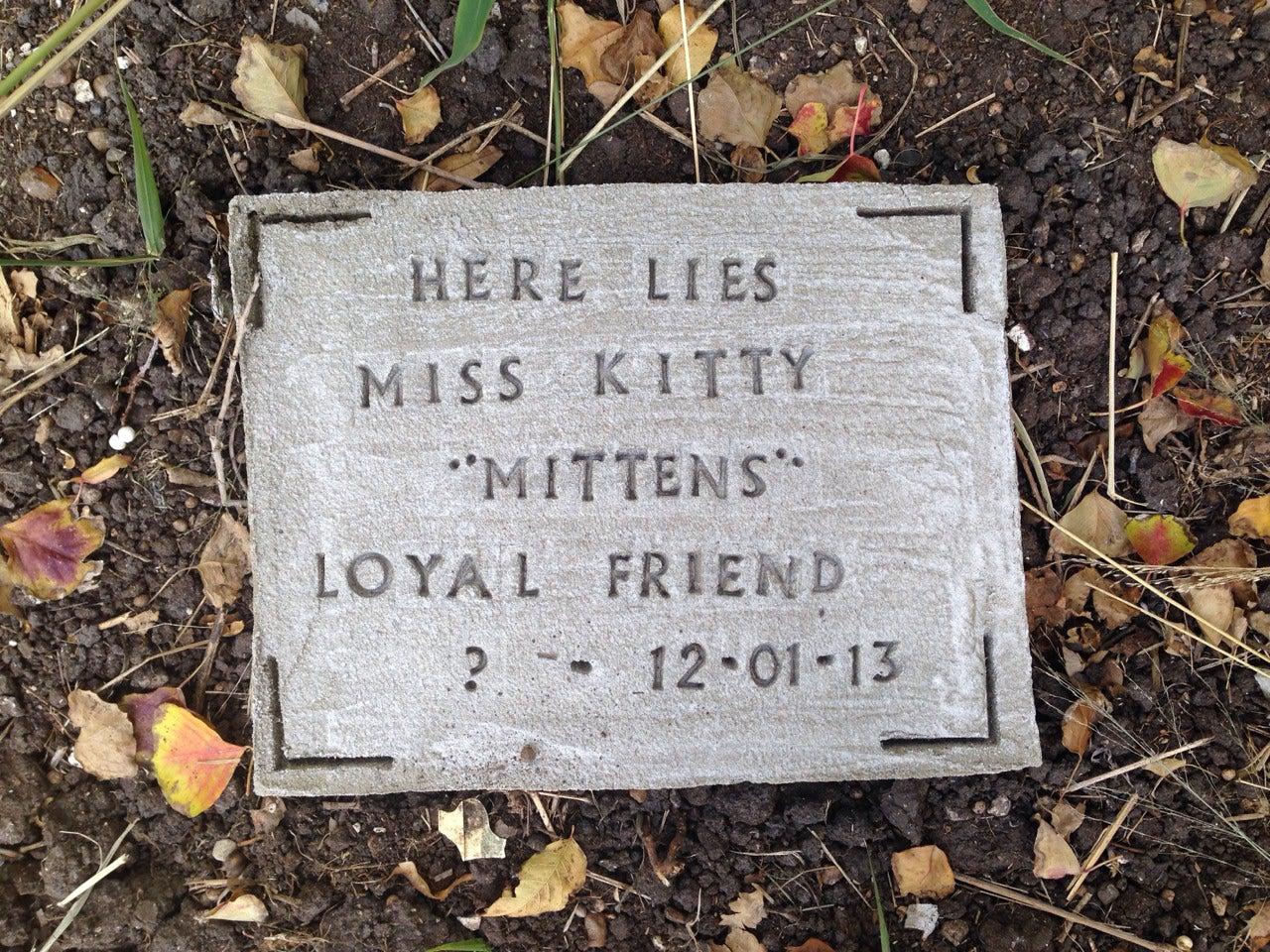 (Source: Instructables)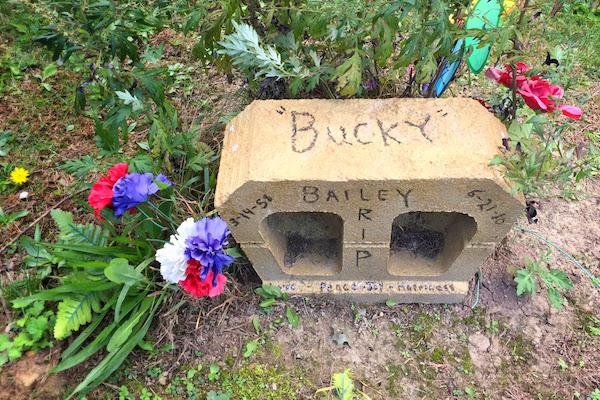 (Source: Pittsburgh Orbit)
When making a cement headstone, you'll want to consider a few pros and cons.
Pros:
Cement headstones are durable, especially when compared to a wooden headstone or garden flag.
The process to make a cement headstone is relatively simple, especially if you are comfortable building a small frame out of wood.
Working with wet cement means that you won't need to have the stone professionally engraved, you'll be able to engrave the stone as you see fit while the cement is still setting.
Cons:
This project may feel a bit overwhelming for someone who has never worked with wood or cement in any capacity.
Measurements and accuracy is key when engraving the cement as you only get one shot.
Cement stones may not be as polished or pretty as other types of headstones.
Most cemeteries will likely have restrictions on homemade cement headstones.
Stone markers
Stone markers are popular headstone designs for dog headstones or pet memorial stones in general. The stone can be any larger stone you find or purchase from a store. You can also make stone markers out of multiple stones by arranging them in a pattern (such as a heart or rectangle). In terms of decoration ideas, stone markers are full of possibilities.
Stone marker examples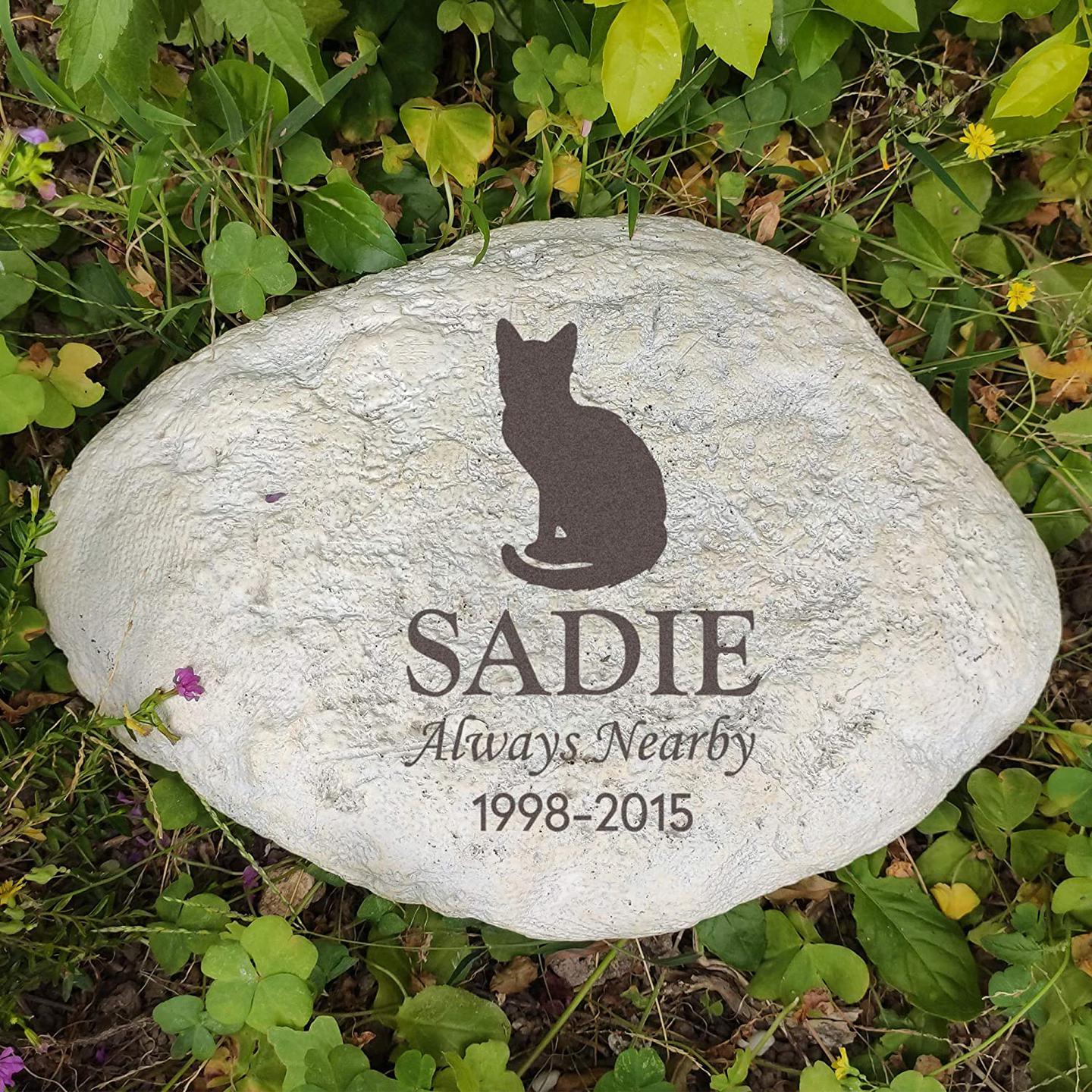 (Source: Amazon)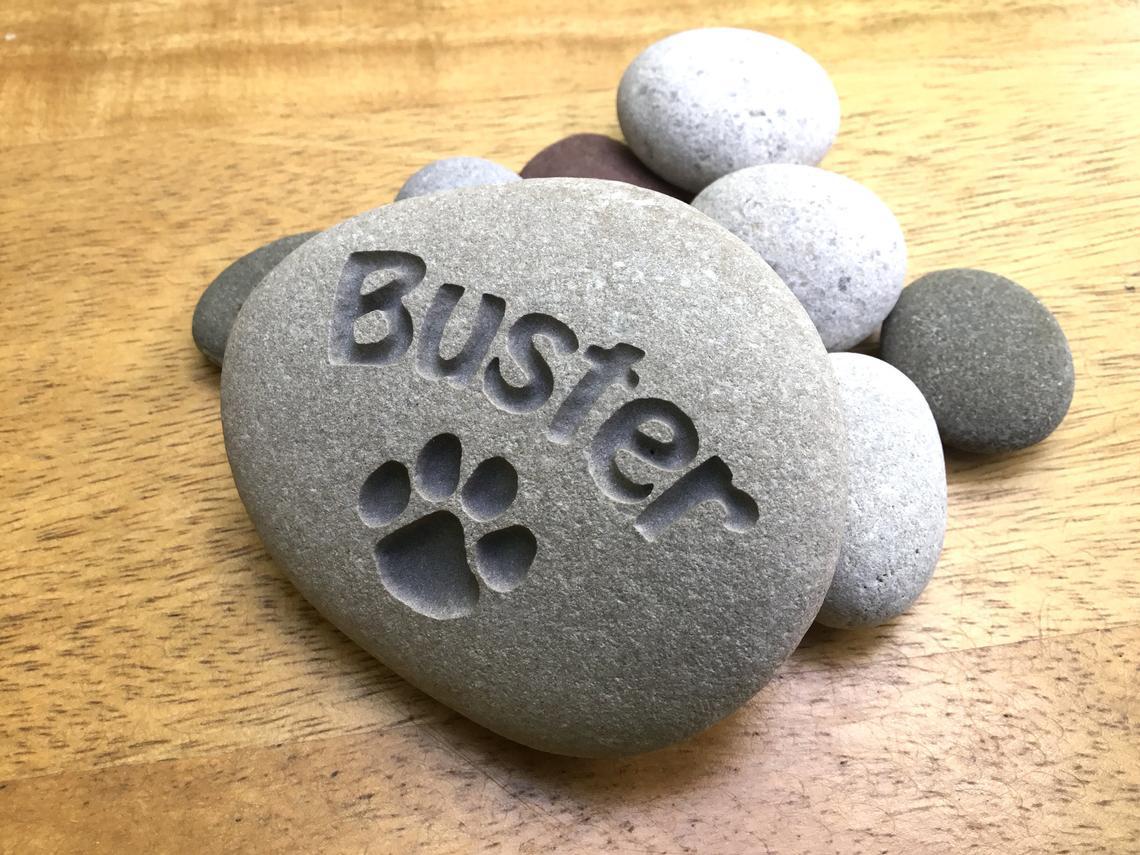 (Source: Etsy)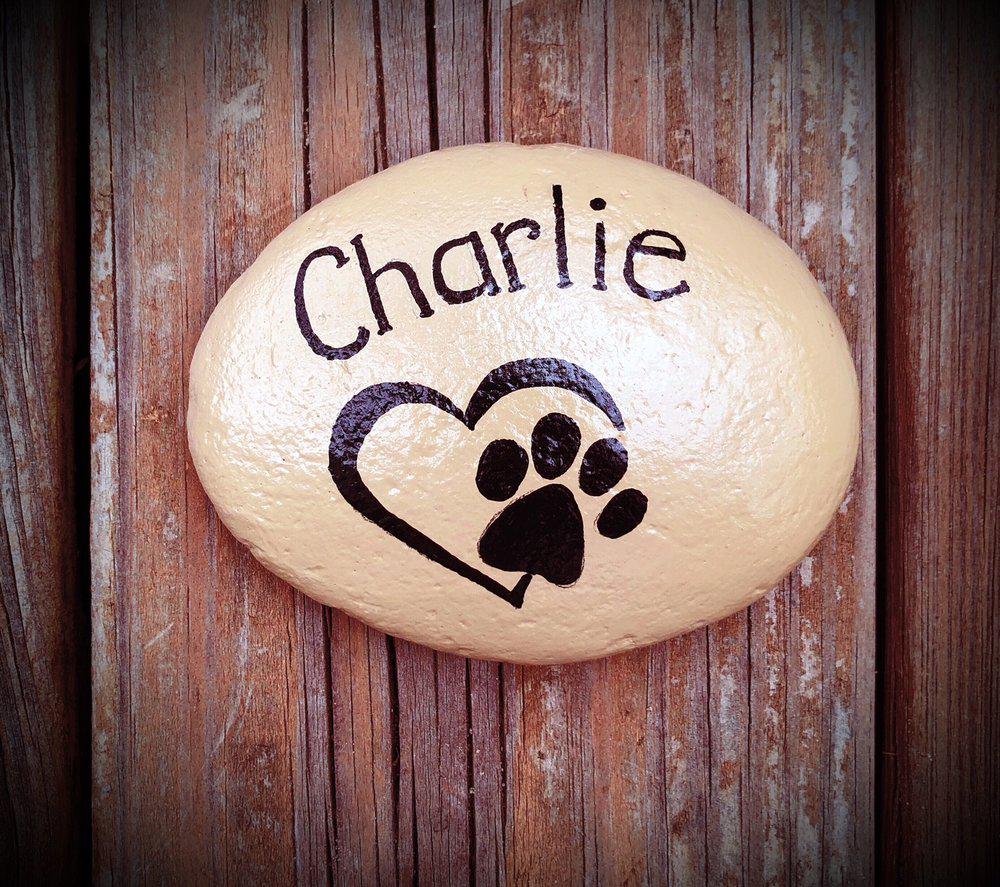 (Source: Etsy)
When thinking of stone memorial markers, here are some things to consider.
Pros:
Rocks and stones are easily found, come in all different shapes and sizes, and are easy to find for free.
You can paint the stones with any design you'd like or have them professionally engraved, making customization cheap and easy.
Stones often make a seamless addition to other unique grave decorations. If you have a larger garden or space you're trying to decorate in memory of someone (or in memory of a pet), stones can be a focal point or a natural piece.
Cons:
If you're looking for a very large memorial marker or tombstone, stones can get really expensive.
Due to the size of most rocks or stones, the marker may be looked over or missed.
Paint can wash off or deteriorate with time.
The engraving may need to be done by a professional.
Flag markers
Many gardens and yards have small poles in the ground with small flags (known as garden flags) that have cute messages, sayings, or designs. You can use these poles to hold up a small garden flag that marks the grave of a lost pet, or a small flag that you purchase or make in memory of a loved one. You can purchase a personalized memorial flag online if you're looking for something in depth and highly customizable (especially if you'd like to include photos), but it's also entirely possible to make a memorial flag at home.
A memorial garden flag is usually smaller, around 17" x 12" and is made from nylon or polyester, for durability. If you have experience with sewing, you can purchase fabric from the store and embroider or sew a memorial flag in any design you want. All you'll need after is a small flag pole to hang the flag on.
If you don't have any sewing skills, you can always purchase a small piece of nylon or polyester fabric (or purchase a blank garden flag from the store) and use fabric paint to design and decorate your memorial garden flag.
Flag marker examples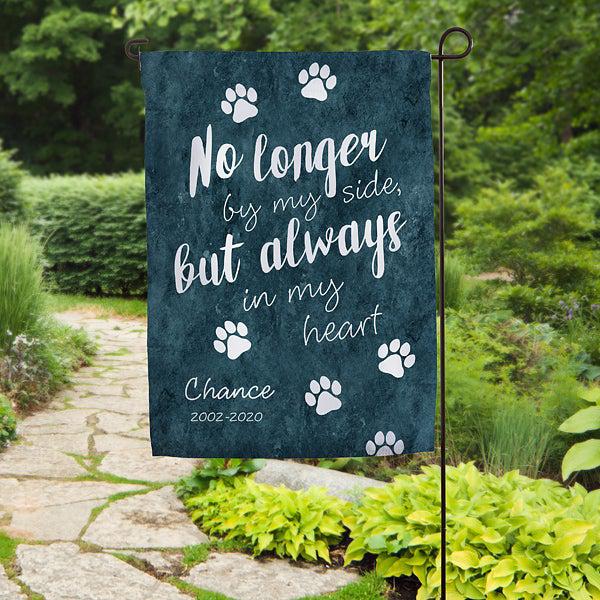 (Source: Personalization Mall)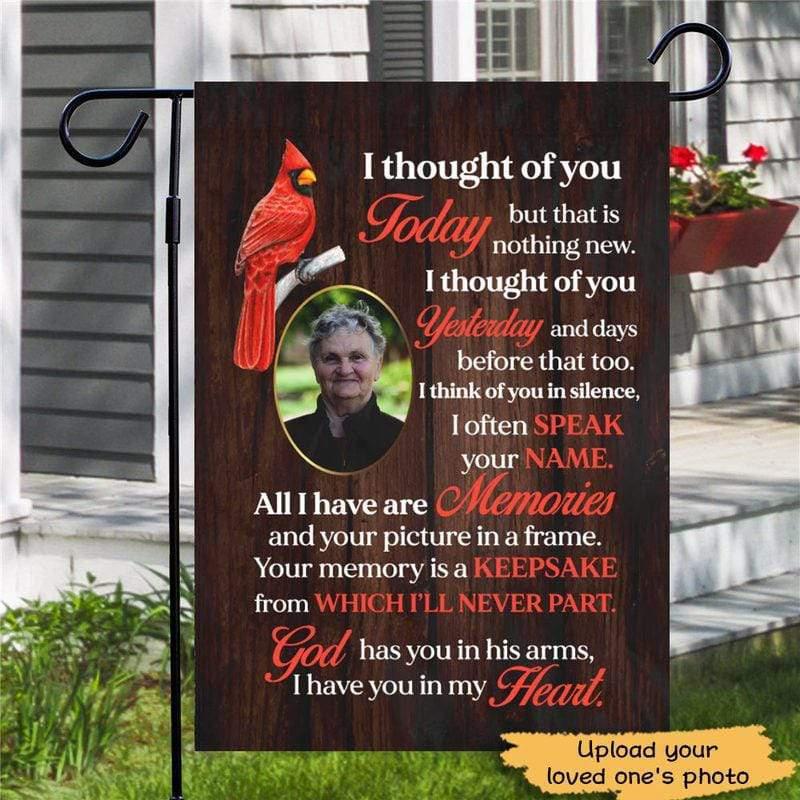 (Source: Trending Custom)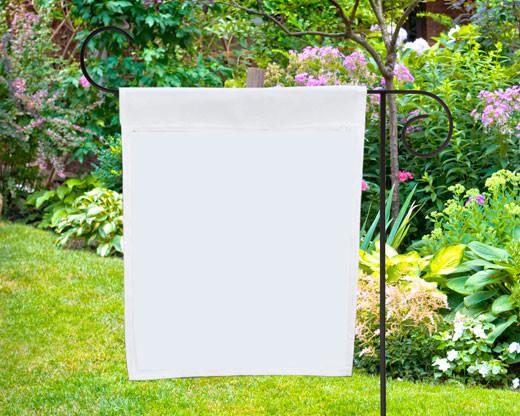 (Source: Gettysburg Flag)
If you're considering a flag grave marker, here's some pros and cons to think about.
Pros:
The materials for a memorial flag are inexpensive and easy to find at most craft stores.
A blank flag marker makes it easy to decorate and style in any way you want to.
If you have experience with sewing or embroidery, it's possible to make a highly customized and beautiful flag easily.
If you don't have experience sewing or with embroidery, you can easily decorate a memorial flag with fabric paint.
Cons:
Memorial flags do not stay on the ground and are likely not welcome at a cemetery.
If you want a highly customized flag (especially with photos), you may be unable to accomplish this on your own. You will most likely need to purchase a flag from a vendor.
A memorial flag may not feel as permanent or substantive as a memorial stone or rock.
Regardless of the type of DIY tombstone you decide to make, the experience of creating something for someone (or something) you love can be healing. You can also involve your friends and family in your creative process and ask that they contribute to the DIY headstone you decide to make. If making a headstone doesn't appeal to you (or you'd like a place where you can easily share information that wouldn't fit on a headstone), you can always make a memorial website on Ever Loved. Memorial websites function as digital headstones that let visitors learn more about the person online. Friends and family are able to contribute and view your photos, interact with you and each other, and build a community around a loved one.