What are Memorial Lanterns?
Memorial services often have a "memorial event" where all attendees come together and participate in something that memorializes their loved one. Memorial sky lanterns are a wonderful addition to any memorial service and serve as a meaningful event for everyone to join together and participate in.
What are remembrance lanterns?
Memorial lanterns, also known as funeral lanterns or memorial lanterns, are lanterns that are released into the sky, usually during a moment of silence or remembrance for the person who passed away.
Where can you buy lanterns for funerals?
Memorial lanterns for funerals are easy to find, especially if you search for them online by searching for "memorial lanterns", "funeral lanterns", "sky lanterns", "water lanterns", or "lanterns for a funeral service". You can readily by memorial lanterns on sites like Amazon or Etsy as well. It's also a good idea to purchase memorial lanterns that are biodegradable or eco-friendly so that your memorial event is eco conscious.
What do memorial lanterns look like?
A memorial lantern usually has a base or holder for a small candle and a solid structure that supports the paper that encompasses the rest of the lantern. For lanterns released into the sky, the candle helps the lantern function similarly to how a hot air balloon functions, by lifting it up into the sky. Memorial lanterns released onto a body of water have a solid base so that the lantern can float. The candles in the lantern create a beautiful visual effect.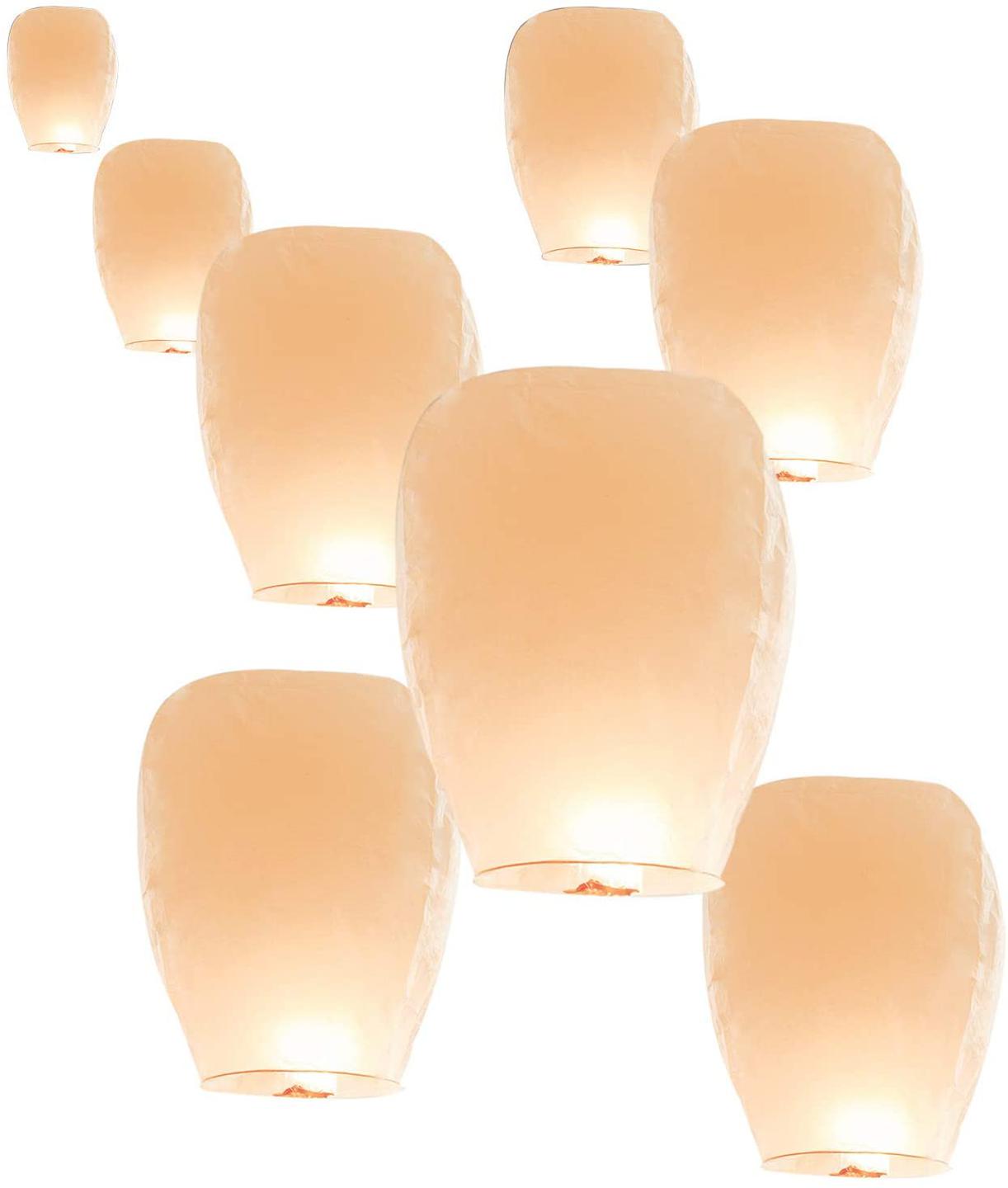 A typical sky lantern.
Source: Amazon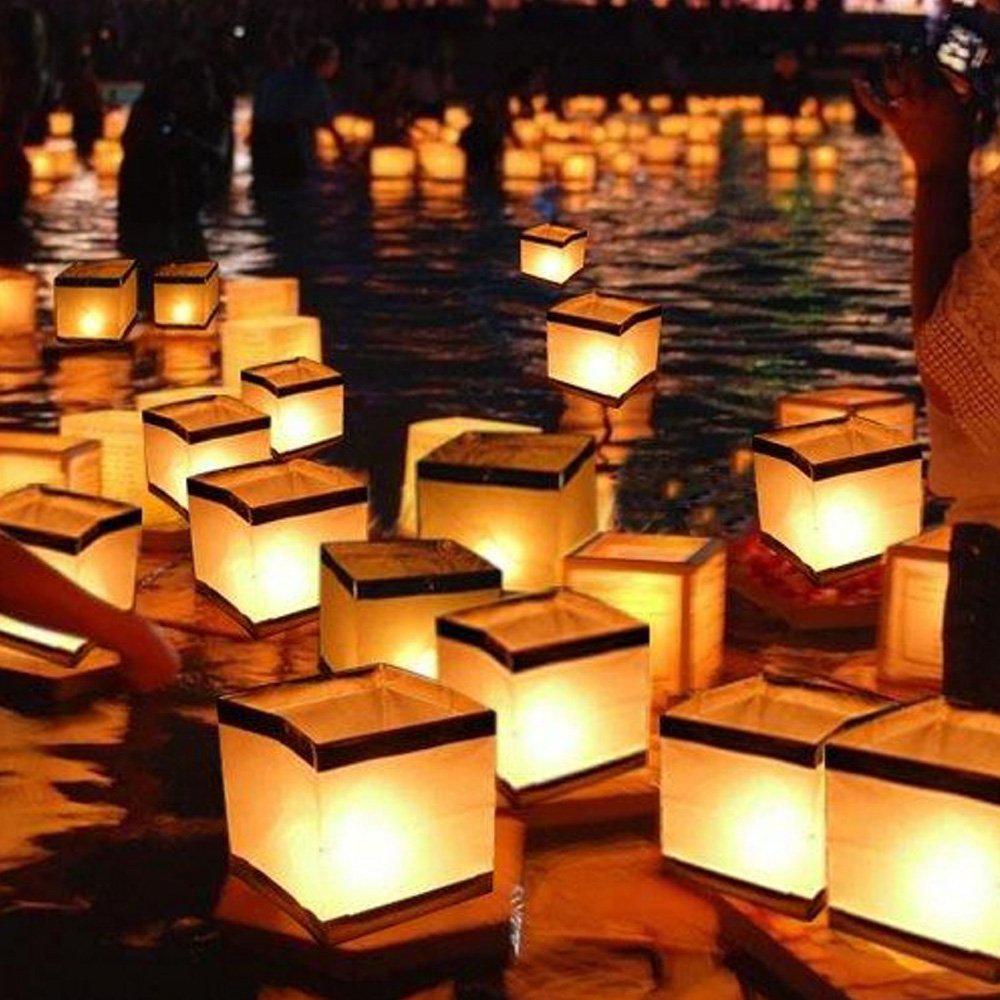 A typical water lantern.
Source: Walmart
How do funeral lanterns work?
The lanterns have a small candle attached to them at the bottom that allow the funeral lanterns to function similarly to how a hot air balloon functions. The candle is lit and the lantern is released into the air. The candle will eventually burn out and the lantern will then begin its descent. Memorial lanterns when released by multiple people at once create a stunning effect, especially if done in the night sky.
Do I have to release lanterns into the sky?
If you're worried about releasing lanterns into the air or would like a similar effect, without sky lanterns, you could consider holding the memorial service near a lake or body of water and using water lanterns. Water lanterns look similar to sky lanterns, except they are released on the water.
How should I create a memorial event around memorial lanterns?
There are many different ways you could center a memorial event around lanterns. A celebration of life may have a lantern release that asks attendees to sing a favorite song, share favorite stories, or cheer in remembrance of a life well lived. A more somber or traditional memorial service could have a lantern release that asks all attendees to stay silent during the release in honor of the person who passed away. There are a lot of possibilities available to you. Here are some additional ideas to make your lantern release more unique:
Ask people to write a message on their lantern to the person who passed away.
Have attendees sign their name on their lantern before releasing it into the sky or water.
Have people write their favorite quality or trait of the person who passed away on their lantern.
Have the group sing your loved one's favorite song or read their favorite poem together during the lantern release.
Play a meaningful song during the lantern release and ask attendees to join in singing.
Have everyone take a celebratory drink in remembrance of the person who passed away during the lantern release.
Get different colored lanterns that are shades of your loved one's favorite colors.
Ask everyone to join hands after the lanterns are released.
Ask attendees to come to a lantern release that's hosted at night for a beautiful visual display.
These are just some of the ways you can creatively use or incorporate memorial lanterns into a memorial service.
If you're holding a memorial service, it's a good idea to set up a memorial website. Memorial websites let you keep attendees in the know regarding all upcoming event details, lets others support each other and connect over the loss of a loved one, lets visitors share condolences and stories, and much, much more.
Are there eco-friendly alternatives to releasing lanterns?
If you're looking for something that doesn't leave a mark on the environment (or doesn't require you to release paper lanterns or even eco-friendly lanterns), consider some of the alternatives:
Ask friends and family to write their thoughts, cherished memories, and other feelings on a piece of paper and collect them in a memory jar
Offer a single lantern or candle that is passed around to each person, asking them to share a favorite memory or privately think of something before passing it to the next person
Release a single lantern instead of multiple lanterns to reduce waste