10 Creative Funeral Decoration Ideas
Decorations and funerals may seem like two concepts that don't go together, but that's not entirely the case. By incorporating different elements into a funeral service, celebration of life or a memorial service, you have the opportunity to share some of your loved one's personality with those attending. Here are some funeral decoration ideas that can bring personality and light to an upcoming service.
Celebration of life, funeral and memorial decoration ideas
Many memorial services, funerals, and celebrations of life include a space where memorabilia and other items that represent the deceased are displayed. Depending on the event that you're hosting, this table could display different items in different ways. Here is a list of different funeral table ideas and memorial table decorations you can use when setting up a table at one of these events.
1: A string of favorite photos
Strings of favorite photos make for beautiful funeral decorations. To set this up, simply grab some yarn or string, some clips, and print out smaller size photos of your loved one. If you're running low on photos, you can make this a community project by asking that folks post their favorite photo on the memorial website you set up for your loved one. Simply right-click the photos posted to save them and print out smaller sizes of them for the decorations. (Make sure you get permission from the photo owners before saving and printing them out.) Once you've gathered enough photos, attach them to the string with the clips and hang these around the venue you've rented for the service.
2: A memory jar
Memory jars are another popular way to display memories of a loved one and is an excellent funeral or memorial table idea. These jars can be as simple or as complex as you want them to be, but the general idea is that people write down their favorite memory of the deceased on a piece of paper and put it in the jar. You can opt for a simple version of this by providing a jar on the table with small pieces of paper and pens for folks to write their favorite memories or moments with the person who passed away. Once they've finished, they can drop their piece of paper into the jar. If you'd like to make this a bit more unique or interactive, consider providing different memory prompts so that you get a large array of moments in the jar. Here are some memory prompts you can consider offering:
What was the last trip you took with NAME?
Describe a time that NAME made you laugh.
What made NAME special?
What were NAME's top five favorite things?
What's your favorite story of NAME?
What was NAME's best quality?
What would NAME want others to know?
What's the best piece of advice NAME gave you?
3: Favorite things centerpiece
Creating a centerpiece is an excellent idea if you're looking for funeral decorations for tables. A "favorite things" centerpiece is simply a collection of the decedent's favorite things. This can range from actual items to photos to pieces of paper with descriptions on them for folks to read through, but a collection of different types of material is typical. What kinds of things should you include in the centerpiece? Here are some ideas:
Their favorite photos
Their favorite stuffed animals, toys, treasures, or keepsakes
Their favorite awards, banners, trophies, or recognition memorabilia
Sleeves, cards, or posters from their favorite bands, groups, or movies
4: Large entry posterboard
A posterboard at the entrance of a funeral, memorial, or celebration of life service is pretty typical, but it's still worth mentioning it on this list. If you have a large enough posterboard, you can encourage attendees to leave their name and a short sentence directly on the back of the posterboard by propping it up and providing pens. The posterboard is typically displayed at the entrance or front of the room and usually has a large photo of the person who passed away, their date of birth and date of death, and a sentence or quote underneath this information.
5: Candle displays
There are many different ways you can creatively display candles and, depending on the religion, there may be set ways that you prefer to display candles. In any case, displaying candles or arranging them around tables and the venue is a great way to bring a calm light and atmosphere to an otherwise emotionally charged event. If you're able to find candles in a scent that the decedent would've loved, this is a great way to share some of what they loved. Another funeral memorial table idea is to set candles up at the front table and offer them to attendees. Simply set up small tea candles in the front and ask that everyone who attends takes one home with them so that they can think of the decedent whenever they light it.
6: Floral arrangements
Flower arrangements are typical decorations at a funeral service. However, that doesn't mean they have to be boring or traditional. You can get creative with your flower arrangements by using different colors, shapes, and sizes of flowers. Additionally, if you're looking for funeral memorial table ideas that don't involve flowers, consider using other types of plants instead. Greenery is a popular choice because it's often associated with life and growth.
When arranging flowers for a funeral, it's important to keep in mind the tone you're trying to set. For example, if you're looking for something more upbeat and celebration-like, consider using bright colors and fewer traditional flowers, such as carnations. If you're looking for something more somber, consider using a darker color scheme and traditional flowers like lilies or roses.
7: Clothing pennants.
If you have access to some of the decedent's clothing (and permission from those who may mind), you can creatively repurpose their clothing as decorations for the funeral by creating clothing pennants to hang around or display on the tables. To create mini clothing pennants, follow these steps:
Gather a few pieces of the decedent's clothing that you can cut up.
Grab some card stock, hot glue, scissors, and twine or strong string.
Cut the fabric and cardstock into small triangles -- about an inch long.
Glue the fabric onto the card stock.
Fold the top of the card stock over the string and glue it together.
Repeat this step for all the triangles until you have a mini pennant string.
Hang these around the venue. If you've never seen a pennant, here's what they look like: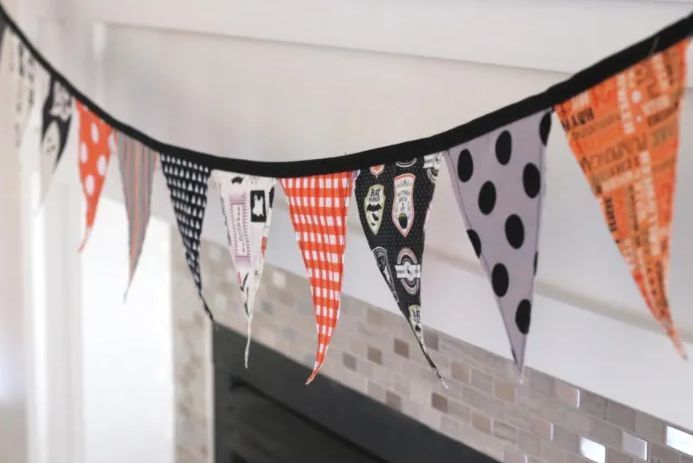 8: Dove release
Releasing doves during a funeral or memorial service is a great way to bring a sense of hope and beauty to the event. Doves symbolize love, peace, purity, grace, and gentleness and can be a wonderful living decoration for any memorial service, funeral, or celebration of life.
9: Lantern release
If releasing live doves isn't your thing but you'd still like to do a release of some kind, a lantern release is an excellent alternative. You'll want to try to purchase biodegradable or eco-friendly lanterns to avoid any harm to the environment. There are lanterns that you can release into the air as well as lanterns that can be released on a body of water.
10: A memory wall
Poster walls make great funeral decorations that are similar to that of a memory jar. Simply tape a large section of paper to one of the walls at the venue you're holding the services at. Provide a large number of pens (you can also hang the pens off the paper or wall) so that anyone who wants to can join in writing. Encourage attendees to write or draw on the wall in memory of the person who passed away. You can also let folks know that they are welcome to leave any message they wish, it doesn't have to be a memory or specific moment with the person who passed away. At the end of the ceremony you'll have a huge collection of messages and memories to take home with you and your family.
No matter what decoration (or decorations) you choose to have at the service, setting up a memorial website is an excellent idea. Memorial websites on Ever Loved are free, full of features that help you organize events and keep in touch with attendees (and even those not attending), and easy to use.