We will send an invite after you submit!
J. David's obituary
J. David Lambert, 63, passed away on Wednesday, September 8, 2021 in his home in Atlantic Beach, FL.
David grew up in Richmond, Virginia and graduated from Midlothian High School in 1975.  He attended Virginia Tech for his Bachelors and Masters degrees and while there was instrumental in growing the Virginia Tech Scuba club and led many memorable Spring Break trips to the Florida Keys (hopefully we hear more about those years in the Memories section :)
After Va Tech, Dave spent several years in the Port Charlotte, FL area as an extension agent and then headed to the  University of Florida in Gainesville for five years to pursue a PhD.  While at UF, Dave worked with Dr. Paul Zwick (UF Department of Urban and Regional Planning) on the Florida Radon Mapping Project. This early effort to identify the distribution of areas of high radon presence informed communities and property owners so they could protect themselves against its health hazards.
In the 1990s Dr. Lambert worked with a team of researchers at UF on the Florida Greenways Project. This effort required the amassing of a large amount of GIS data long before it was easily accessible or available in standardized projections. Dr. Lambert was a key member of the group who developed the concept of the Florida Geographic Data Library (FGDL), whereby the assembled spatial data along with the metadata supporting it could be shared at no cost. Twenty-five years later, updates and on-line distribution of the data found in FGDL continue to this day through the University of Florida's GeoPlan Center (geoplan.ufl.edu).
Also, in the 1990s Dr. Lambert worked with Professor Peggy Carr (UF Department of Landscape Architecture) on the Paseo Pantera Project (Path of the Panther). The project name was chosen to acknowledge the distribution of the mountain lion (puma, panther) from North America through Central America to the tip of South America. The effort was funded by US AID, the Sea Turtle Conservancy (nee Caribbean Conservation Corporation) and the Wildlife Conservation Society. The project's concept was to protect ecological connectivity throughout the isthmus of Central America to allow for movement of wildlife and to protect large areas of highly diverse habitat. The concept was embraced by the presidents of all the Central American nations which lead to new conservation set asides that otherwise may never have happened. Dr. Lambert not only provided GIS support but worked to create early datasets used for project design including land use/land cover.
Upon getting his "Doctorate of Philosophy", Dave moved on to the University of North Florida in Jacksonville, bought a house at the beach and settled in for the remainder of his career, helped start a company (GeoAge), got a few patents along the way and helped thousands of students.
Dave's impact at UNF spans decades. He was a dedicated faculty and an accomplished researcher. He also played a significant role in the establishment of the Environmental Center (now Institute of Environmental Research and Education). His greatest passion was mentoring students and helping them gain the skills to advance their careers. Below are a few of Dave's accomplishments while at UNF.
Research
Prior to being director of the Environmental Center, Dave managed the very successful Environmental Monitoring, Mapping, Analysis, and Planning Systems Lab (EMMAPS). His lab brought in several hundreds of thousands of research funding, and he co-authored two patents related to an emergency- management geolocation database invention.
Environmental Center
Dave significantly contributed to the formation of the Environmental Center. He made important contributions to the strategic vision of the Center and provided opportunities for collaboration during its formative years. As director, he brought a vision and energy the Institute and always kept the priority on serving students, faculty and the community. 
Environmental Leadership Program
One of Dave's proudest accomplishments was the creation of the Environmental Leadership Program, which provides students scholarships to complete community-based projects. He wanted to create a program that would train the next generation of environmental leaders, while also empowering students to make real contributions to their community.
Community Service/USGBC
Dave's ideas and ambition were too large for just UNF and he made significant contributions within the Northeast Florida community. He was a dedicated volunteer with the US Green Building Council and many other organizations. He could always be relied upon for ideas, advice, and a helping hand.
Students
Dave was a dedicated mentor and would spend countless hours helping students succeed academically and professionally. He could often be found in the office working late with students. His legacy will live on through the countless lives he touched and the students who benefited from his generosity and passion. 
Celebration of Life Memorial Event
We are planning a multi-event celebration of life October 15th, 16 and 17th 2021 in Jacksonville, Florida. The main Celebration of Life (in person and possibly virtual) will be on Saturday from 2pm to 9pm on the beach at the Dolphin Plaza in Hannah Park, Jacksonville.  More information and RSVP should be available soon on this site. 
Print this obituary
Order a beautiful PDF you can print and save or share.
Get the PDF
Want to stay updated?
Get notified when new photos, stories and other important updates are shared.
Memories & condolences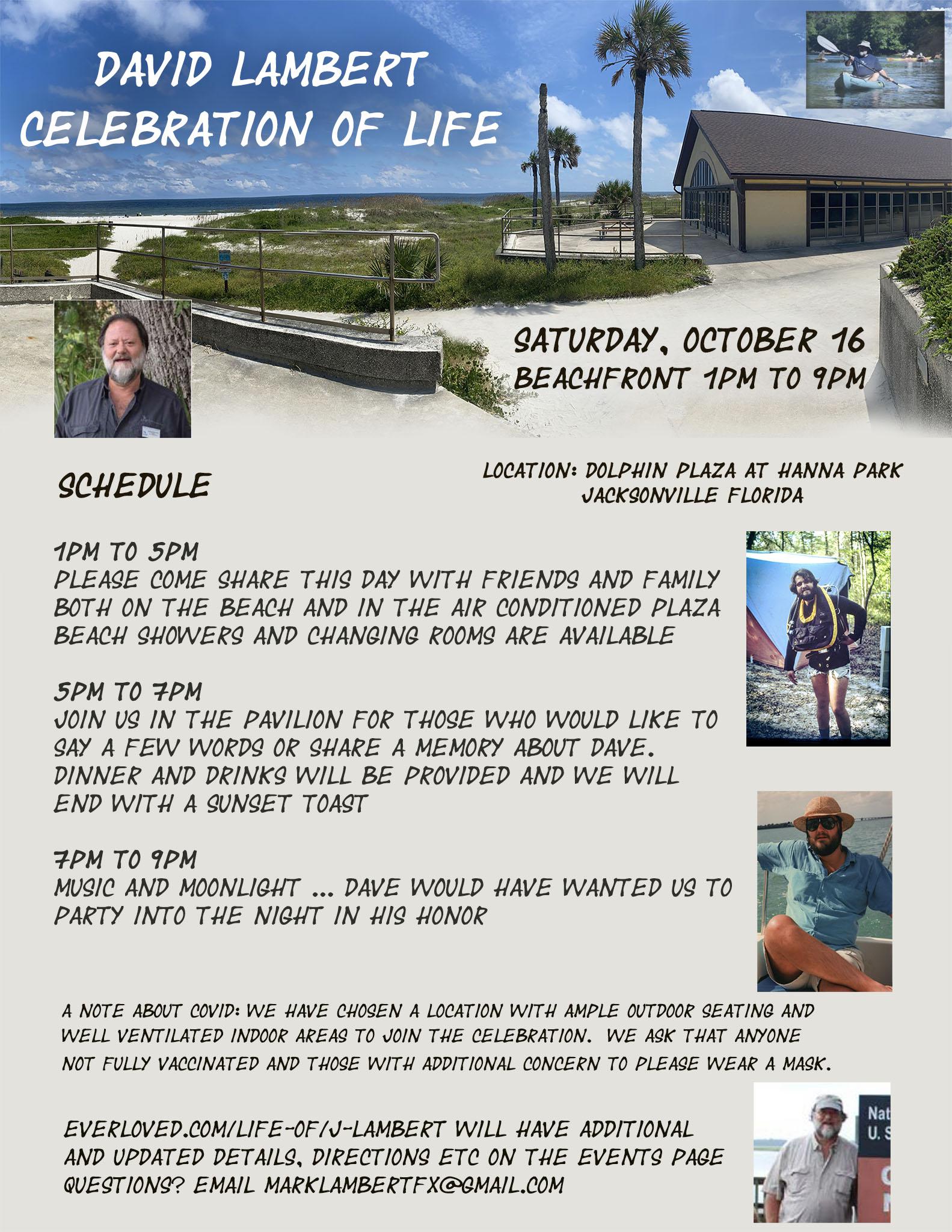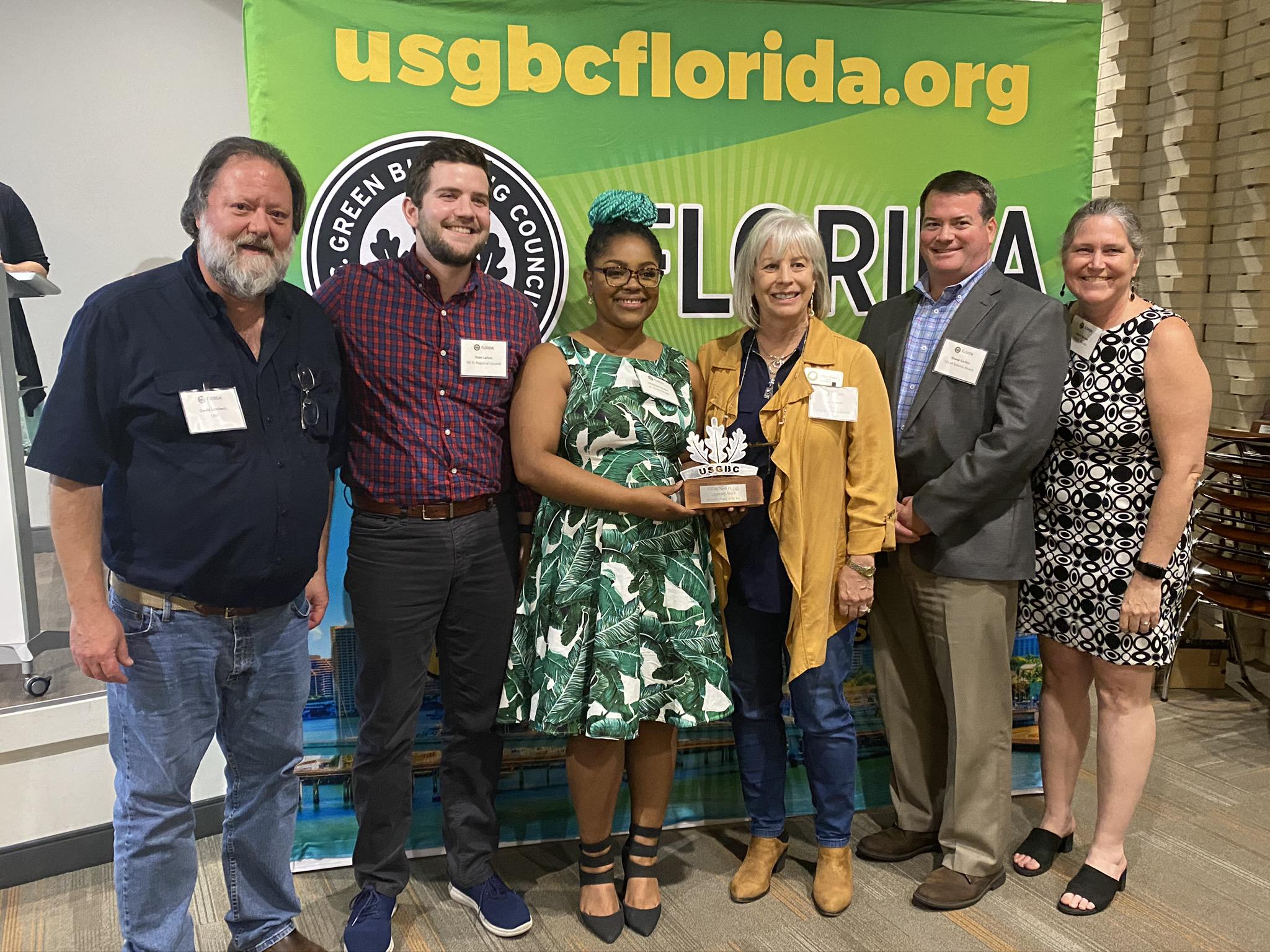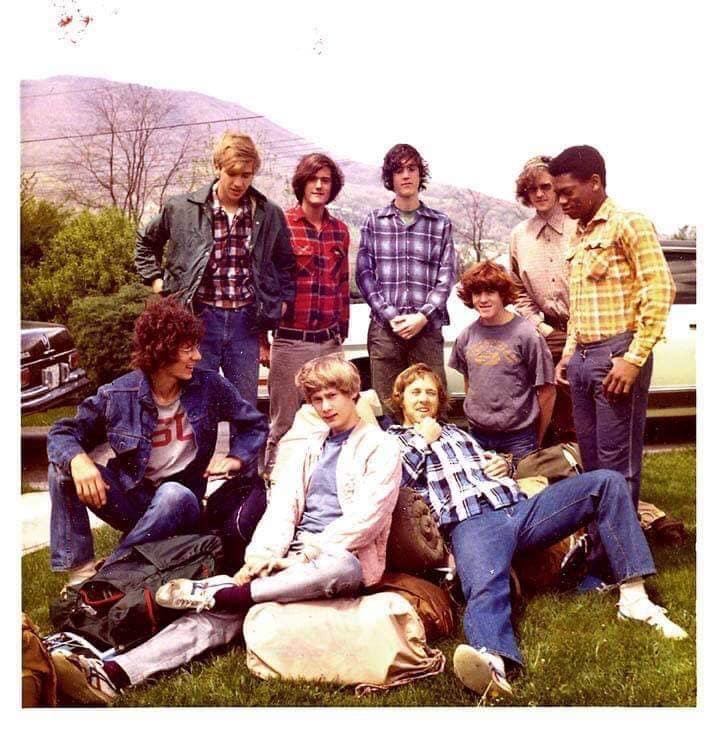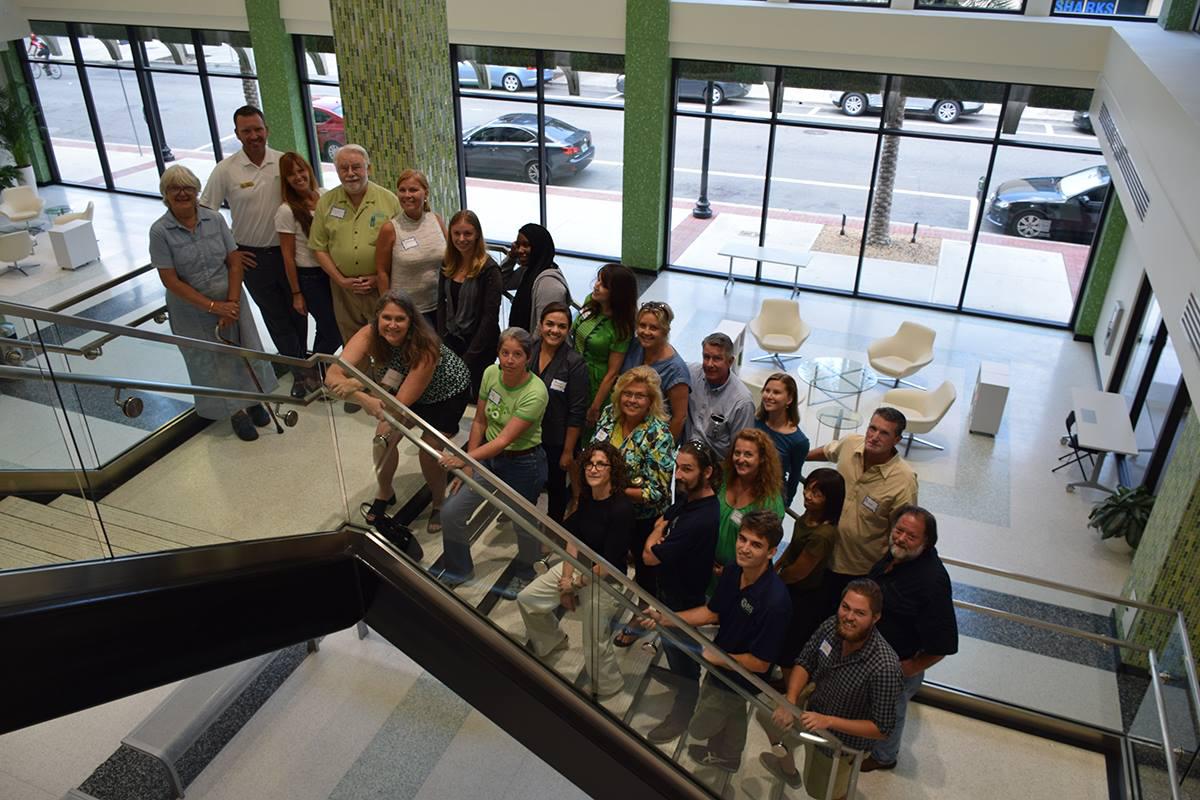 See all memories
Get grief support
Connect with others who have experienced similar types of loss.
Visit our grief center
Get grief support
Connect with others who have experienced similar types of loss.
Visit our grief center