Memories & condolences
Ryland Fernandez
— "
Belle was always smiling, always cheerful, always kind. When I first started playing guitar for the church, she'd always approach me and tell me "how lovely I sounded." Every time it was our turn to put flowers up for the altar, she'd call us to remind us about it, as well as check in on how our family was doing.
Belle was indeed a light, for our church community, for the people closest to her, and for me. She shone for all of us, and her light will continue to shine from Heaven, and in all of us. Thank you Belle. Rest well now."
Mark McLean
— "
I don't have any specific stories about Belle, I just know that I was always happy to see her because she always had a wonderful smile and a happy outlook. She was like a magnet for me because, even when I would see her from a distance, I was always pulled to go see her and chat rather than just wave. I guess I just wanted to see that smile and get a dose of her happiness and positive attitude so that it would rub off on me. I will miss all of that."
Leina Blaisdell
— "
Leina Blaisdell- Although I had not spent a lot of time around Belle because of moving from Sacramento years ago , my mother Helen sure spent many Sunday's with Belle and considered her to be one of her closest friends. I heard many stories of how warm , compassionate and loving she was, how she would listen and pray for friends and family . When my parents were no longer able to stay in their home and moved to Carlton Plaza In Elk Grove Belle was so kind to keep visiting them along with other church members . She phoned my mom to check on her after the passing of my father she also phoned me . Thank you Belle for being a loving light to both my mother and father . They were so blessed to have you in their lives ."
Kathy Marquardt
— "
When I think of Belle, I remember I Corinthians 13:13: "And now these three remain: faith, hope and love. But the greatest of these is love." Belle was the sweetest, nicest person and a person of great faith. We all considered her a prayer warrior. But what I will remember the most about Belle is her love. She gave that love to so many and I was blessed to be one of them. She was always encouraging others and was appreciative of the people in her life. Belle was never critical. Her emails would have red hearts scattered throughout and always a message of "I love you". Belle was the heart of our small group and when she shared, it was always about how God loves and cares for us. Her messages were always so uplifting. I will miss her very much. I know she is in heaven watching over us. Love you, Belle!"
Mindy Takechi
—
Shared a heart
Kathi Nakashima
— "
Kathi Nakashima — Belle was a wonderful friend. We had many conversations about family, life, health, and growing old. Belle taught me that in every situation look for the positive. I'm grateful for her friendship. This verse Describes Belle:

God has chosen you and made you his holy people. He loves you. So always do these things: Show mercy to others, be kind, humble, gentle, and patient. Colossians 3:12"
Arlene Hagiya
— "
Arlene Hagiya - Belle's light truly shined brightly. If you were to ask, who do yo know that most closely walked in the steps of Jesus, without hesitation, it would be Belle Ito. She had such a tender heart and her ways were always gentle. Even in the way she spoke.
She was God's gift to us and by her example taught us about living a life of faithfulness, goodness, love, excellence, integrity, humility.....I could go on and on.
One of the most precious things I remember about Belle were her emails. They were always flooded with emoji smiley faces and hearts. :) It reflected her spirit.
I will dearly miss her as will everyone who knew her.
Rest in Peace dear friend."
Dale Fong
— "
Dale, Sue, and Sami Fong - Belle was the epitome of grace and kindness. She would often leave notes in the SPRC box asking how Sami was doing at college. Her thoughtfulness and smile will stay with us forever. Rest in peace."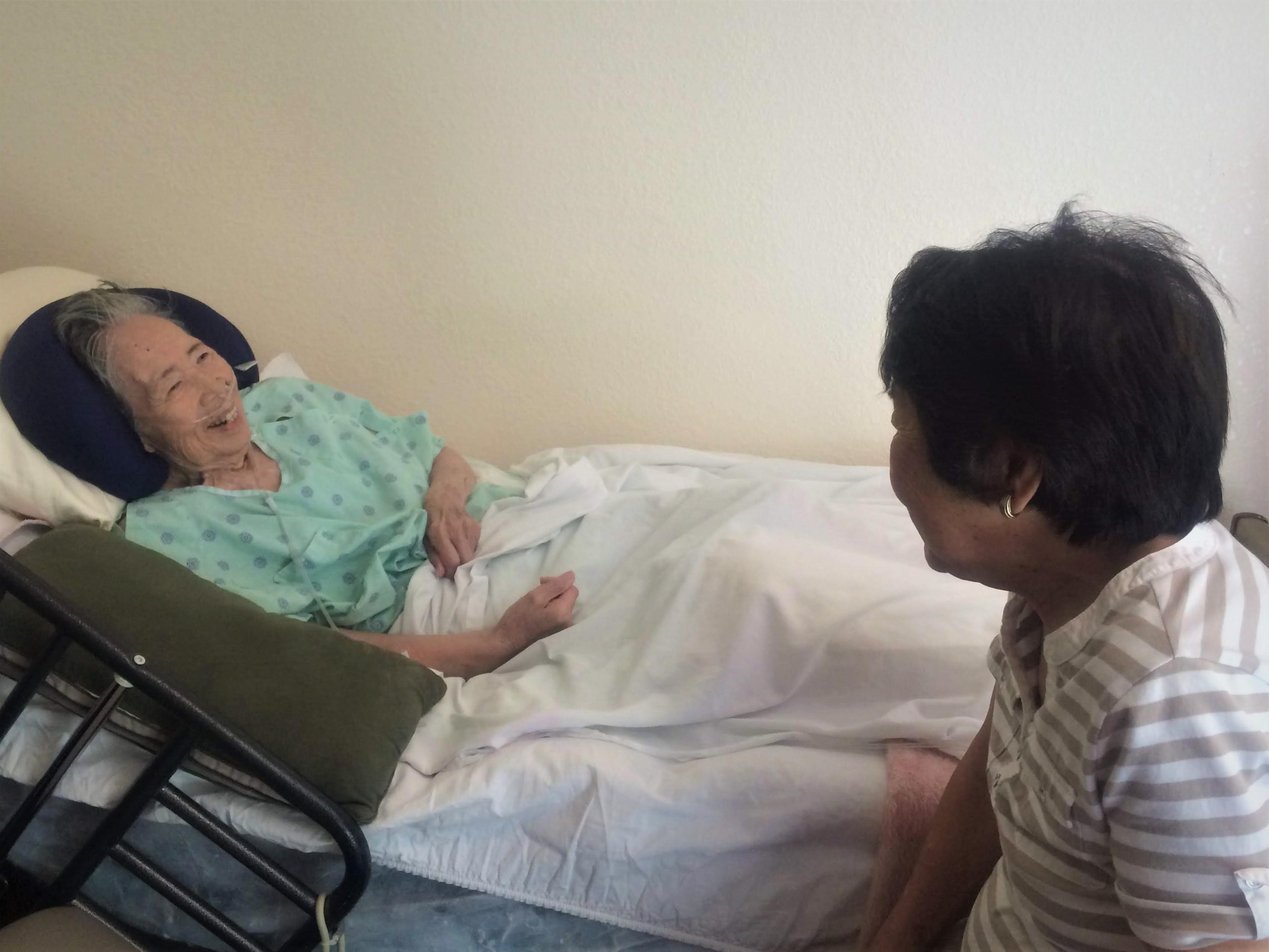 Mindy Takechi
— "
Belle and Amy - July 2015"
Mindy Takechi
— "
Love. Compassion. Acceptance. Wisdom. Belle had the gift of seeing individuals through the lens of Jesus. I saw this in the sweet and honest way she interacted with people; most notably my mother Amy. Belle was a member of the SJUMC Caregiving Ministry. Amy had Parkinson's Disease, and as it progressed, she moved to a residential care home in Elk Grove. Belle visited her faithfully. She would often bring an Upper Room devotional booklet and a sweet treat. They would chat, and Belle would close their visit in prayer.

As Amy's end of life approached, Belle came to visit. Although my mom was unable to speak, the two of them gazed at each other with such joy and love. There was no sadness. It was truly a holy experience.

When three long-time church members moved to a senior living facility in Elk Grove, Belle and I talked about missing their presence, and them missing the church. We thought, "If they can't come to the church, we can bring the church to them!" Our first visit took place on February 14, 2016. The Carlton Plaza ministry was born. Attendance grew and gatherings were filled with joy: singing, checking in, discussing a devotional, and often Communion with Rev. George. The Holy Spirit was always our special guest!

I loved sharing in this ministry with Belle and look forward to re-establishing visits to Carlton Plaza when the pandemic restrictions allow. Love, compassion, acceptance, and wisdom. Thank you for your legacy dear Belle!

She is clothed with strength and dignity, and she laughs without fear of the future. When she speaks, her words are wise, and she gives instructions with kindness. Proverbs 31:25-26"
Sandy Koshino
— "
Belle was the Sweetest person I know! She was always so welcoming and friendly with her gentle voice, kind spirit and beautiful smile. She loved the Lord and showed it with her wonderful Flower Ministry where she organized the Altar Flower Committee and made sure the altar was graced by beautiful flowers every Sunday during worship service. She was always gracious whenever I brought flowers or when it was my month on the Flower Committee and would always call to remind and thank me, email and send sweet letters. Sometimes when I arranged the flowers and didn't think I did a good job, she said that they looked beautiful. She had such a positive attitude and made everyone feel special. After Belle moved into Brookdale Assisted Living, Eddie and I visited her and she proudly gave us a grand tour of her new place and introduced us to her new friends. She was loved by everyone she met. I was blessed to have known dear Belle. She will be deeply missed but never forgotten.
With Love, Sandy"
Kimi Ronay
— "
Belle was such an inspiration with her loving spirit. A great role model to follow as she exemplified the Fruits of the Spirit and Christ's love. Always positive, encouraging, humble, gracious, faithful and with a beautiful smile! I can picture her smiling right now. Just about every Sunday, she would say, "Thank you for singing in the choir, I just love the choir. It sounds so beautiful!" Also, I remember her phone calls if I was on the flower list. She would be so polite and gracious to remind me to bring the flowers for service and always a great big, "Thank you for beautifying the sanctuary." We miss you Belle but we're grateful for the wonderful memories and showing us what it means to be a Christian! The Prayer Group will continue your legacy! May you Rest In Peace with Christ.
Love you, Kimi"
Jayne Rasmussen
— "
I don't have a specific story about Belle, just very good memories of how she made me feel. I always felt loved !! She sent me thank you notes, or called or emailed anytime I did anything she heard about for the church. She kept encouraging me as lay leader with her appreciation and gratitude. I know in her earlier church life she must have been very active. And as a teacher, she knew how important encouragement was and hers was filled with love. When we first got to know each other, she hosted a small group at her house. She loved having us all there and I learned about chicken farming!! Her spirit filled the home and I know it was hard fo her to leave it. When I met UM district superintendent Debra Brady , the first thing she said when I told her I was from SJUMC was," Belle Ito goes to your church!" She was the pastor at her former church. She just loved Belle and she said she was honored to preside over her husband's memorial service. Then I met her brother, Bishop Sano at Annual Conference and we took selfies together and sent them to Belle. What a God-loving and God-filled family! We were so very blessed that she chose our church family to join these past 13 or more years. She knew Revs. Gary and Debbi Grundman, so I think that sealed the deal to come to SJUMC! I feel like we have another angel to watch over us and am so very grateful for her life! I adopted her as my "church mom" after mine died in 2015 . She was many people's mom. She was truly God's gift to us and to me! I miss you, Belle! I know you are resting in Christ's loving embrace!"
Want to see more?
Get notified when new photos, stories and other important updates are shared.