LOVE Cremation Pendant
Price:
$64.99
Order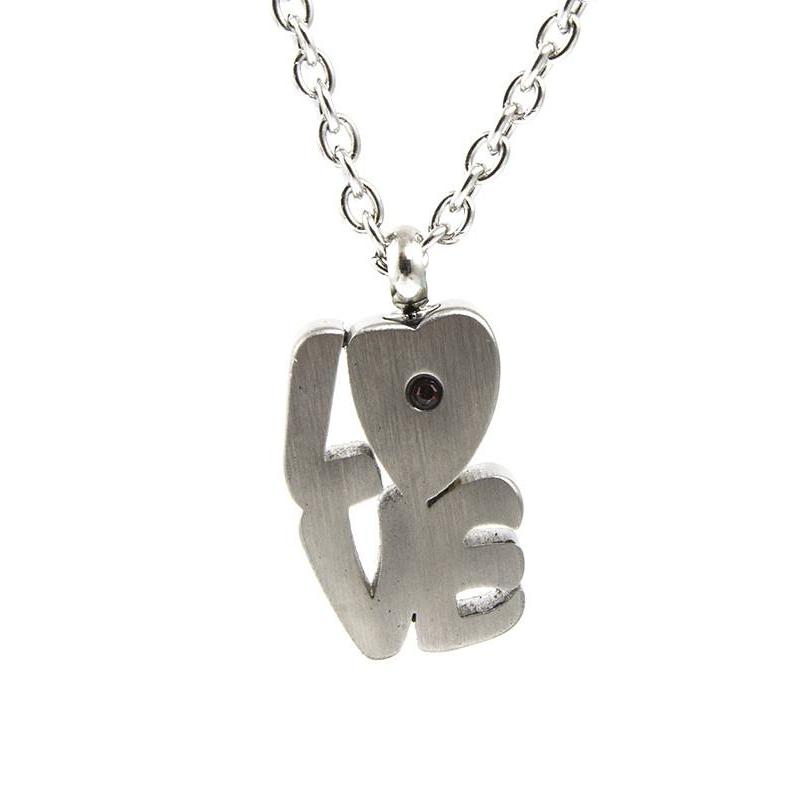 Order
Description:
New "LOVE" pendant. Not all cremation pendants have to look the same. This super cute pendant spells out LOVE with a little red gemstone accent in the "O". The ash is added through the top threaded screw. Also, an 18" silver chain is included for Free.
Dimensions:
Dimensions: 1.25" Hx .75" W.
Made from stainless steel.
Do not submerge in water.
Seller return policy:
Paradise Urn Company will take back or exchange any product for any reason within 15 days of the purchase.

Contact us within 7 days of delivery.

We do not accept cancellations.

There will be a restocking fee of 15%.

​

The only exception to the return policy is:

We cannot accept returns that have had ashes or remains in them.

We cannot accept returns that have been buried or weathered outside.

We cannot accept returns that have been engraved or personalized.

We cannot accept items damaged by the customer.

We cannot accept returns that are damaged due to poor return packaging by customers.

Expedited shipping costs will not be refunded. (Express, Next Day Air, Two Day Air, Three Day Air).

We reserve the right to charge for exchanged items.

We reserve the right to change this policy without notice.

Once returned, ​goods will be inspected before a refund is issued.

We are a family business and therefore take great care in packaging and inspecting your order. Occasionally an item for unforeseen reasons can arrive damaged. If for any reason it does please contact Paradise Urn Company immediately.
Did you know?
Memorial jewelry is any piece of jewelry that is used to remember someone, while cremation jewelry is specifically created to hold a small amount of ash (or anything else that represents your loved one to you).
Have a question?
---
---
Be the first to post a review.
Paradise Urn Company
Our mission at Paradise Urn Company is empowering families options in funeral urns with thoughtfulness, empathy, and variety. We have combined our personal years of experience at the graveside to create our collections. We look forward to helping your family honor your loved one. Please contact us if you have any questions.
Have a question?
Questions? We're here to help.
---