Contemporary Celtic Cross Trapezoid Single Upright Monument
Price:
$3950.00
Order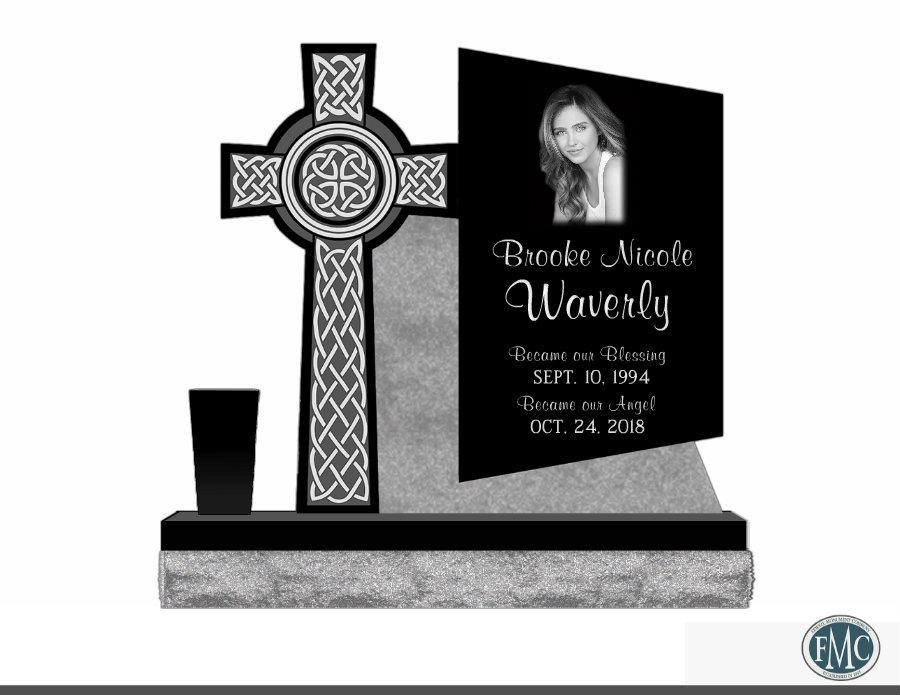 Order
Description:
This Beautiful Premium Black Monument Features a Celtic Cross and a Polished Trapezoid that stands out .5" from the sanded recessed area behind it. This is a single size monument.

Please check all cemetery rules and regulations before purchasing to make sure this size and style will be allowed.

We can customize any monument to fit your taste. Feel free to email us to find out more about this design. asa@nelsonmonumentcompany.com

**Lifetime Perpetual Warranty Included**
Dimensions:
Tablet: 30" x 6" x 34" All Polished with Sanded Recess Area.
Base: 42" x 12" x 6" Polished Top and 1.5" Margin
Vase: 5" x 4" x 9" All Polished
Customization options:
- 1 line of engraving
Seller return policy:
Customers have 14 days from the date of purchase to cancel the order for full refund. After 14 days, no cancellations allowed and no refunds given except for reasons of damage or discrepancies from official proof.
Shipping:
From $400.00 to $425.00, depending on time and location.
Did you know?
Cemeteries are required by law to accept headstones purchased online, and they may not charge you more to have one installed. However, you still must comply with any cemetery regulations (e.g. size, material).
Have a question?
Product Q&A:
How and Where does the memorial get delivered? Who installs it? Why is it only 6" thick? Most in the Boston area are at least 8-10" thick.
- Ralph J.
Hello Ralph, Thanks for reaching out with questions. Delivery would be made by LTL to the address you specify during ordering process. Check with your cemetery on installation. They may be able to install, otherwise, get a quote from a local monument company to see how much they would charge to install. Although the monument is shown as 6" thick, it can be made thicker, in fact, some cemeteries may require 8" or 10" thicknesses. We always advise customers to check with their local cemetery rules and regulations before making a purchase like this. We can quote in whatever thickness you prefer or are required to have. Thanks again for reaching out! Nelson Monument Company
---
---
Be the first to post a review.
Nelson Monument Company
We are a family run business that fully embraces the incredible responsibility of memorializing the life of your loved one. We understand that a proper memorial is a big part of the healing process and work very hard to create it exactly as you wish. We believe that every meticulous detail matters! We only deal with the highest quality granite, marble, and bronze materials while still managing to keep a very competitive pricing structure. Don't see what you are wanting? Email us at asa@nelsonmonumentcompany.com or call us 405-467-1359 and let us know what you are looking for. We will be happy to list it on this site for you to purchase. Visit us at www.nelsonmonumentcompany.com for more info about us and our products and services.
Have a question?
Questions? We're here to help.
---