Titan Atlas XL | Light Blue Steel Oversize Casket with Light Blue Interior | 28", 29", 33", 36"
Price:
$1399.00+
Order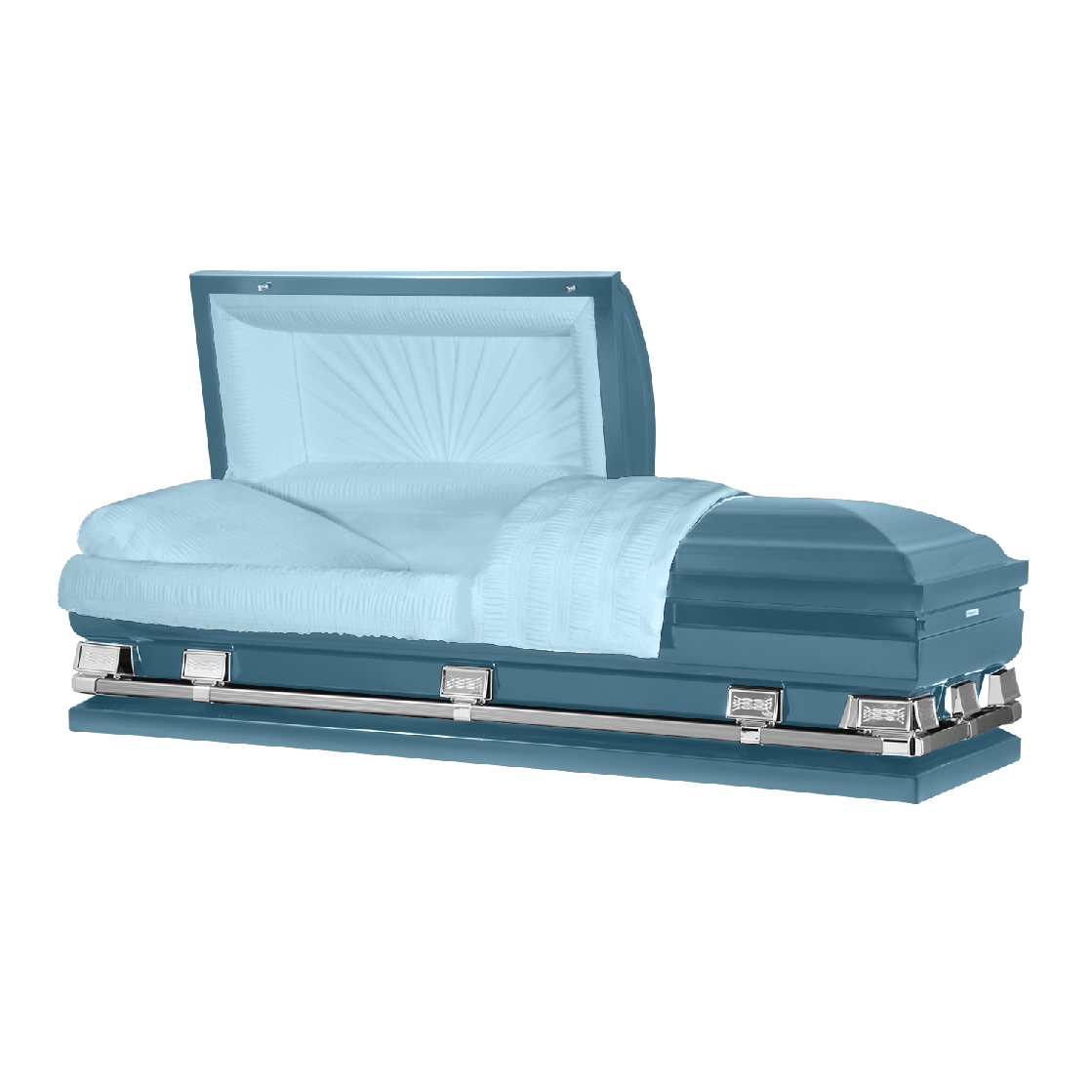 Order
Description:
This magnificent casket is a perfect choice to honor a loved one. An oversized version of our popular Orion Series, the Titan Atlas XL is meticulously prepared, with its sculpted, detailed hardware and design, reinforced stationary handles, and 'soft to the touch' light blue crepe interior.

Oversized steel casket. Available in 28", 29", 33", 36" and larger sizes. Available in all colors. Need something bigger? Call 501-298-4295 to speak to one of our experts.

Why We Recommend This One: The Atlas XL Oversize Series Steel Casket represents a blend of class and quality and is fully customizable. This casket is built with premium steel, with sculpted hardware and available in a wide variety of colors, the Atlas XL is a great choice.

Key Features:
Sculpted Hardware. The exterior of the casket and all metal hardware has been intricately sculpted, providing a high level of functional aesthetics to the overall design.

Stationary Handles. For easy transport, this casket includes reinforced stationary handles.

Full Rubber Gasket. This casket comes standard with a rubber gasket.

High Gloss Finish. We enhance the look of the steel with a high gloss finish.

Crepe Interior. The crepe interior of the Atlas XL casket is lightly patterned and very soft to the touch.

Adjustable Bed. Both the head and foot end of the bed can be adjusted.

Color Options. There are a variety of color options available, and we can customize to the color of your choice.
Dimensions:
28" interior: 79"L x 27.75 "W x 14"H
28" exterior: 83"L x 28"W x 23"H

29" interior: 79"L x 28.75 "W x 14"H
29" exterior: 83"L x 29"W x 23"H

33" interior: 79"L x 32.75 "W x 14"H
33" exterior: 83"L x 33"W x 23"H

36" interior: 79"L x 35.75 "W x 14"H
36" exterior: 83"L x 36"W x 23"H
Seller return policy:
Returns: Our policy lasts 30 days from the date of purchase. If 30 days have gone by since your purchase, unfortunately we can't offer you a refund or exchange. To be eligible for a return, your item must be unused and in the same condition that you received it.

Exchanges/Returns/Cancellations: For exchanges and returns or cancellations, you will be responsible for paying for your own shipping costs for returning your item, in addition to a 30% restocking fee once we have received your unused item.

In the event you refuse to accept delivery of your order and the product is returned to us, this will be considered an order cancellation and the applicable restocking and shipping charges will apply.

Return Shipping: To return your product, contact us and we will provide you an address to which to mail the product. If you have received a damaged product, we will cover the cost of shipping.

Shipping costs are non-refundable. If you receive a refund, the cost of return shipping will be deducted from your refund.

For more information, please call us 24/7 at 501-382-8791.
Shipping:
Free shipping available across the U.S.
Did you know?
Funeral homes are required by law to accept and handle caskets purchased online. They cannot charge additional fees for this or require you to be present when it's delivered.
---
---
Be the first to post a review.
Titan Casket
Titan Casket was established with one goal: offer superior funeral caskets at a revolutionary price. Each casket is hand-crafted from high-quality materials. Titan's friendly staff provides fair and honest service, believing you should not have an emotional loss turned into a financial loss.
Questions? We're here to help.
---