Adult Golden Department of The Army Cremation Urn
Price:
$119.00
Order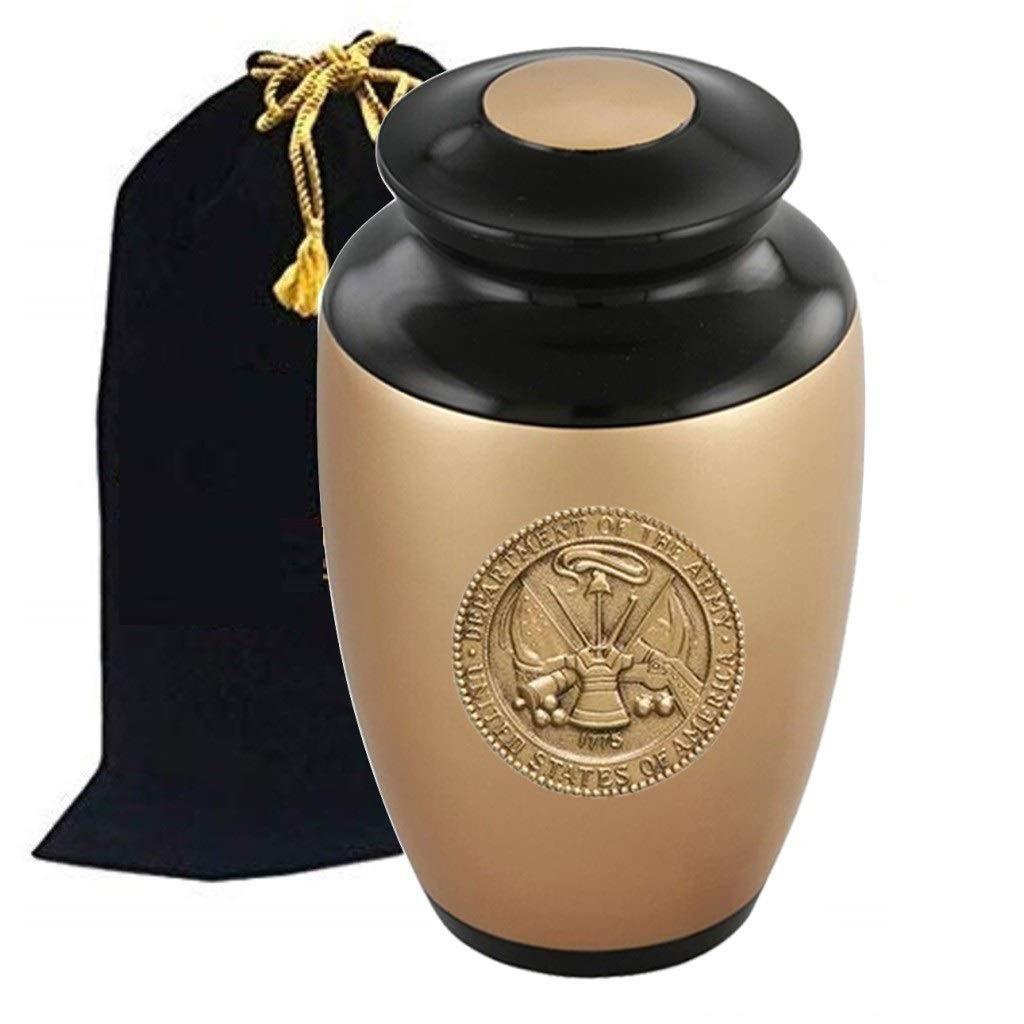 Order
Description:
Custom Gold Applique Adult CREMATION URN. The urn is made from Solid Metal and the perfect lacquer coat to preserve its brilliance. It comes with top opening with threaded lid. The beautiful Applique is aesthetically finished by our artisans and are fixed on the urn giving beautiful meaning to each FUNERAL URN. Our urns are uniquely handcrafted and are exceptionally beautiful justifying the future of the departed soul. This ADULT URN holds up to 210 cubic inch of cremains and approximate measure is that 1-pound weight prior to cremation equals 1 cubic inch after cremation . Dimensions: 10-inch-high x 8-inch diameter. All of our urns are in our warehouse and ready to ship as soon as payment is cleared. Usually we ship within one business day of receipt of payment.

100% Satisfaction Guarantee

♦SATISFACTION→ We carry elegant and high quality products and we trust that you will be very happy with the quality and creative design of our products

♦BEST PRICE GUARANTEE

♦EASY RETURN→ If you do not like the product after arrival please contact us by contact form and report the issue within 3 days after product arrival and we will refund your money after product is shipped back to us. But, once product is used we will not accept return due to the personal nature of this product
Dimensions:
Dimensions: 10"H x 6"D
Capacity: 200 cu. Inches
Size - Adult Urn
Bag - Included
Material - Alloy
Seller return policy:
We want you to love your purchase. If you are not completely satisfied, contact us (email - support@memorials4u.com/Phone - 855-596-6450) and we will work with you to make it right. Please note: Due to the handmade nature of our products, there may be slight variations but this is also one of the unique feature of handcrafted products. We offer 14 days return policy outlined below:
- We must be notified within 14 days of receiving the product for refund or replacement
- Product must be unused and in resalable condition
- Personalized items cannot be returned
- Products damaged by customer cannot be returned
- Restocking fee of $15 will be deducted
Shipping:
From Free to $18.00, depending on time and location.
Did you know?
Funeral homes are required by law to accept and handle urns purchased online. They cannot charge additional fees for this or require you to be present when it's delivered.
Have a question?
Product Q&A:
Yes I do have a question. When is my dad's urn going to be shipped? I haven't received any notifcation as to when this was going to happen. Pls. email me at mablair90@hotmail.com Thanks. Margaret Blair
- Margaret A. B.
Hello, may we have your order number to look further ?
I want to purchase can I do so on line or should I wait and call Monday.
- Margaret A. B.
Should be able to do online
---
---
Be the first to post a review.
Memorials4u
MEMORIALS4U is a manufacturer, importers and exporters of cremation products including Cremation Jewelry and Cremation Urns. Our product can be used as Urns For Human Ashes, Urns for Ashes and Cremation Jewelry For Ashes. We also specialize and produce Pet Urns, Pet Cremation jewelry and Pet Cremation Urns We have our own manufacturing plants in India and China and serve more than 15 countries with our exquisite products. MEMORIALS4U offers a large selection of high quality funeral products at an affordable price. Our customer care representatives are ready to give you a warm welcome and help to find just the right products for your need. Through long-term experience and close customer contact, we at MEMORIALS4U know what is important to you and take the time to meet your needs and wishes. Our goal is to fulfill your desires to your fullest satisfaction!! Distinguished Features Making Us Different: BEST PRICE GUARANTEE EASY RETURN FREE GROUND SHIPPING
Have a question?
Questions? We're here to help.
---