12 Headstone Design Ideas
Headstones are great ways to personalize the grave of a loved one and to let some of their personality shine through. Some of the best headstone ideas are those that give a little insight into who the person was, which can be accomplished through all sorts of customization options.
Headstone shapes
Before looking into what you'd like on the headstone, it's good practice to understand the shape of the headstone you'd like to purchase. Here are examples of some typical headstone shapes and headstone design templates: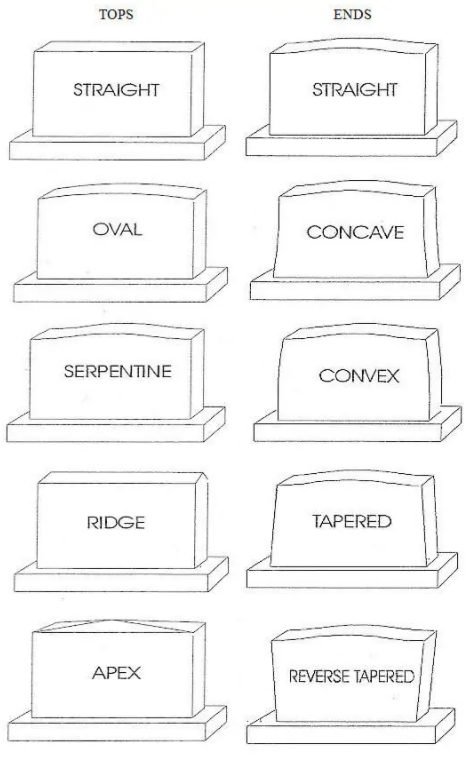 (Source: Schlitzberger & Daughters)
Upright headstones come in all different types of designs and this photo is by no means exhaustive of all design types. When you work with a headstone company, ask for examples on all the different shapes they provide (and for photos of them, if possible). If you're looking for a custom headstone shape that isn't listed, ask if they're able to do custom shapes (this will likely cost more).
Headstone engraving designs
Headstone engraving typically refers to the decorative engravings that you see on many headstones. Headstone engraving designs are vast and can truly be an engraving of anything, including nature, animals, flowers, hobbies, people, items; the possibilities are endless! Some families even use custom engravings to design funny gravestones rather than somber or more serious ones. Many headstone companies will provide a set of typical engraving designs for you to look through, but customization is not uncommon when it comes to headstone engravings.
Here are some examples of typical engraving design sheets you might see: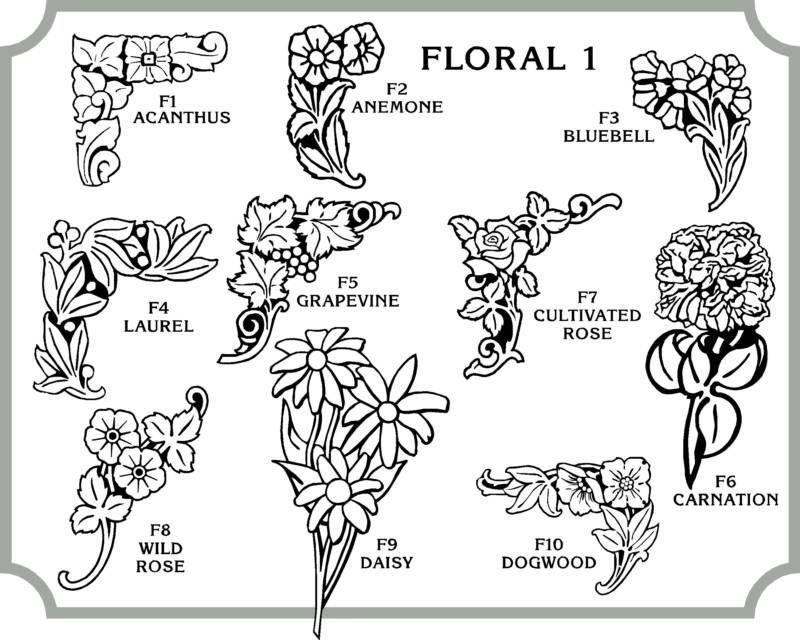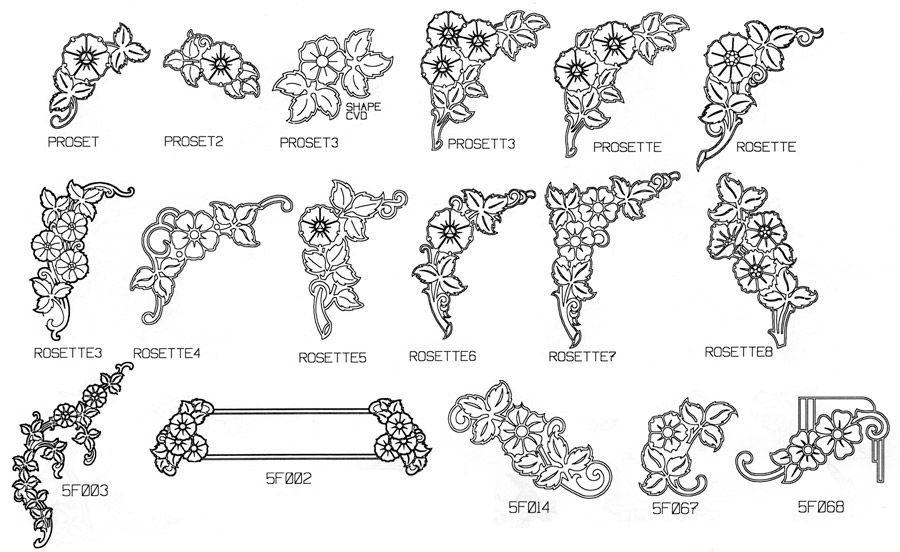 (Source: Everlasting Stones)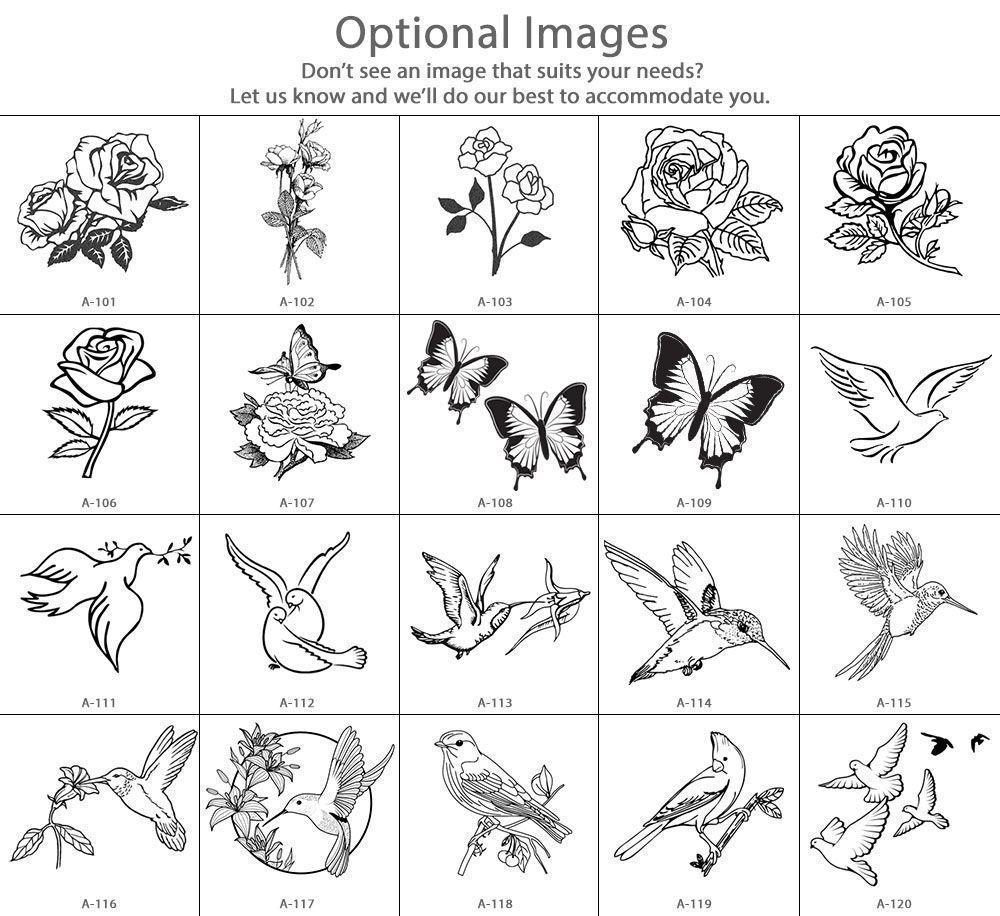 (Source: Mainely Urns)
Keep in mind that these are typical engravings you can come across, but that engravings could theoretically be anything you'd like.
Single headstone designs
Single headstones often come in the form of upright headstone designs - headstones that sit upright on top of the grave. Typically these stones are made out of granite, marble, and slate and start out at around $1,200. Depending on the amount of customization and addons (such as additional statues, engravings, etc.), the price can increase quickly. Here are some more standardized designs you'd typically see in a cemetery.
Invalid response (Source: Schlitzberger & Daughters)
This tombstone design features a photo and decorative engravings in the corners in a classic style. It also includes the typical information found on a headstone as well as a short epitaph.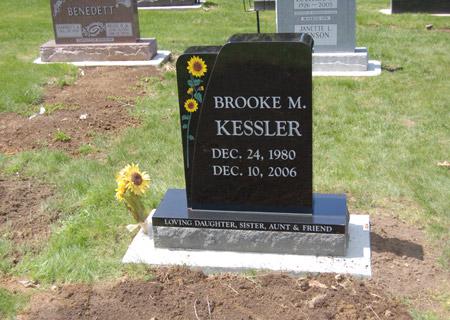 (Source: Lewiston Monument)
This headstone includes an epitaph inscribed on the base of the headstone rather than on the upper portion. It also includes a colorful sunflower engraving, adding a pop of color to the headstone which personalizes it a bit more.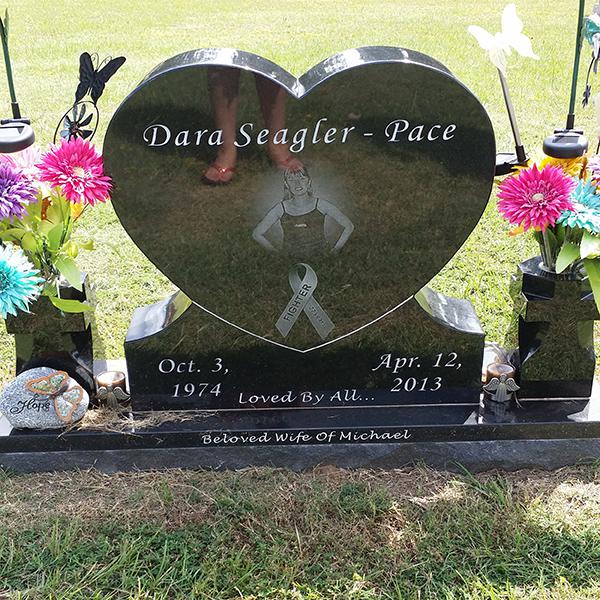 (Source: Texas Monument Company)
This single upright headstone is shaped like a heart flanked by two flower vases on either side. Another headstone with part of the epitaph engraved at the bottom, it also includes an engraved photo of the deceased (as opposed to a color portrait) for those who may prefer a consistency in color and style.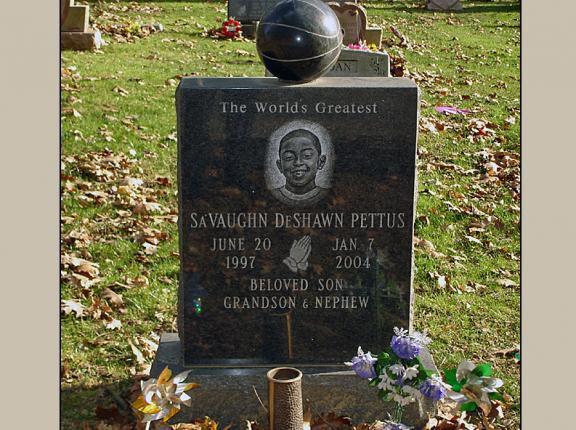 (Source: Rome Monument)
This headstone is shaped in a traditional rectangular shape, but includes a personalization piece in the form of a basketball on top. This headstone also comes with an engraved photo and epitaph. Adding a custom piece atop the headstone is a great way to customize it to the person who passed away and turn it into a unique headstone.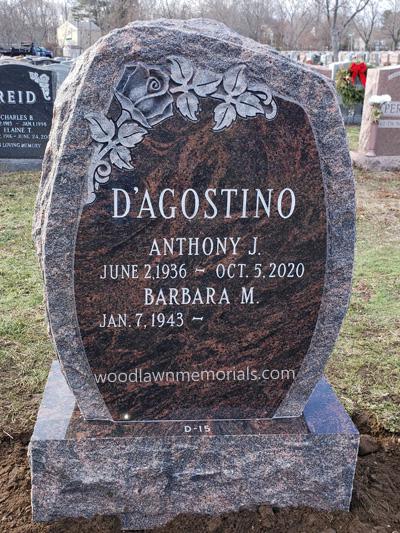 (Source: Woodlawn Memorials)
If you prefer a different color stone, here is an example of a redder granite with rougher edges. The rough exterior adds a unique shape to the headstone and can give it a more artisanal look.
Double headstone designs
A double headstone (also known as a companion monument or companion headstone) is used to mark the burial plot (or plots) where two partners are buried. They can be larger than a traditional headstone and include information about both the decedents. These headstones designed for couples are a great way to show the amount of love and devotion between a paired couple, even after they've passed away.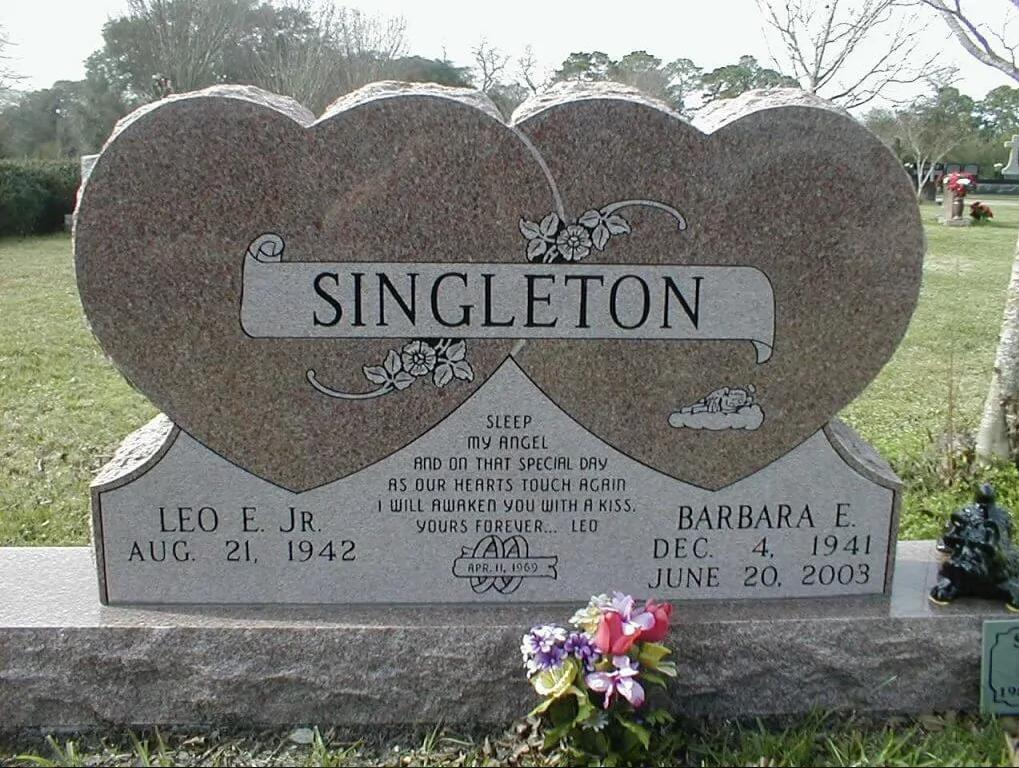 (Source: Schlitzberger & Daughters)
This headstone is a great example of a double headstone with all of the information a traditional headstone has. This headstone has the last name of the deceased (as the centerpoint), heart shaped stone, an epitaph, and the birth and death dates of both the individuals.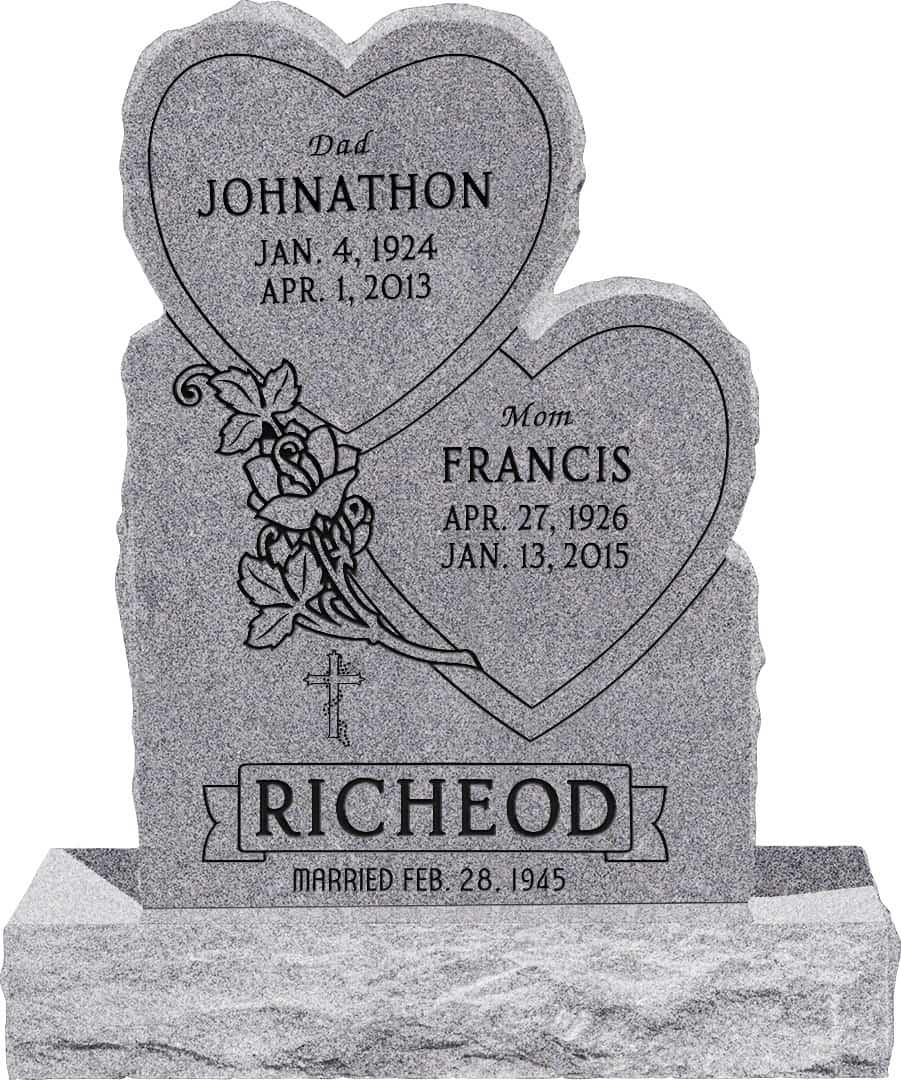 (Source: Signature Headstones)
This double headstone is similar to the previous heart shaped headstone, except it has one heart piece on top of the other as opposed to horizontally placed next to each other. This provides a taller headstone if you prefer that over a wider one, with much of the same information.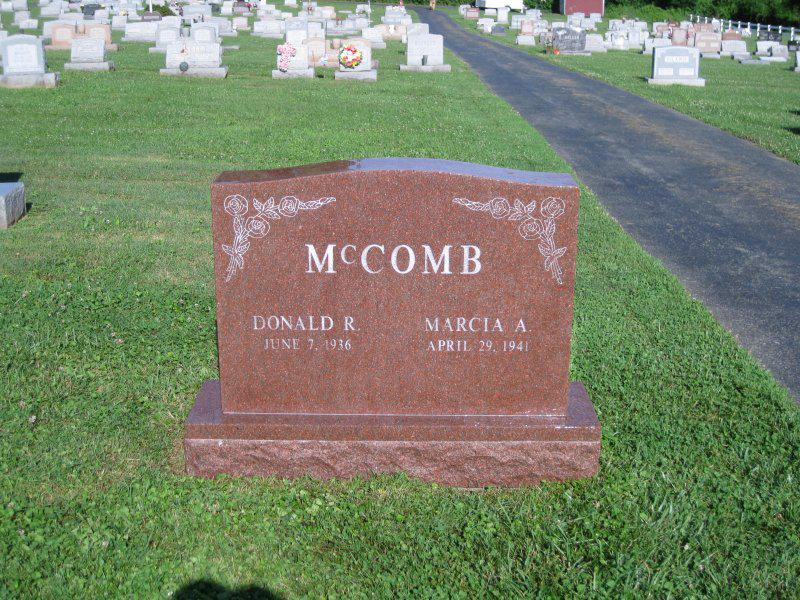 (Source: Fram Monument)
If you're looking for a double headstone that has a more traditional shape, you can choose a rectangular double headstone with information about both of the deceased. It can be simple (just the names and important dates) or you can add engravings or an epitaph.
Grave marker designs
Grave markers are significantly less expensive than upright headstones and come with many of the same options and space you'd get with an upright headstone. Grave markers can start out at around $120.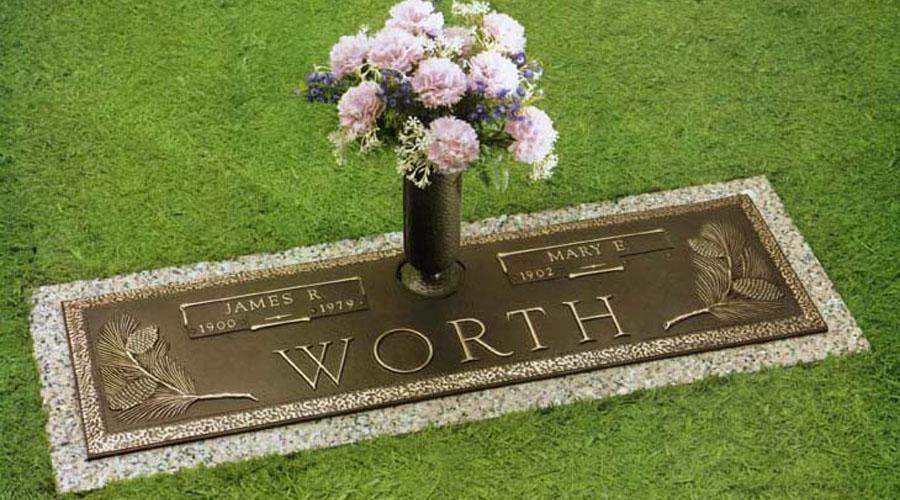 (Source: Modern Monuments)
If you're looking for something a bit simpler or less expensive, a grave marker is a great alternative to an upright headstone. Grave markers lay flat on the surface of the ground and can be made out of a range of materials (including granite, bronze, stone, and others).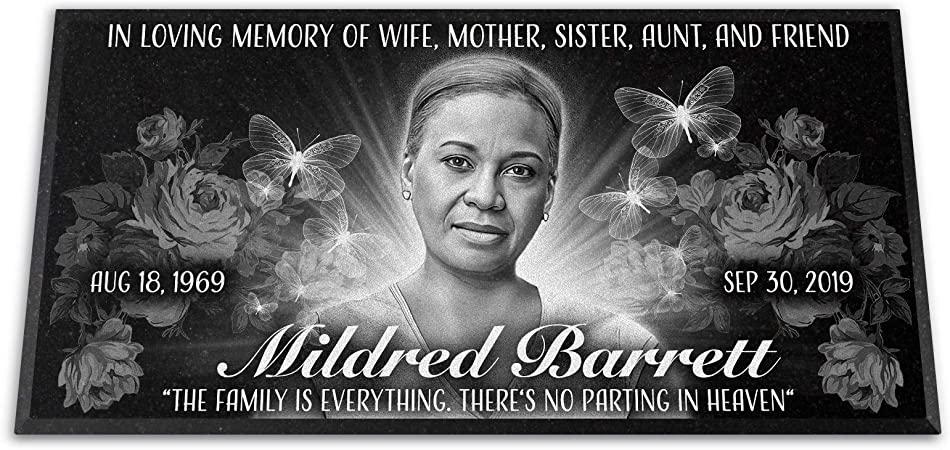 (Source: Diamond Engraved)
This flat grave marker features an engraved portrait, epitaph, and beautiful flower and butterfly designs on a granite surface. This specific grave marker is made by Diamond Engraved, a vendor that can also be found on Ever Loved.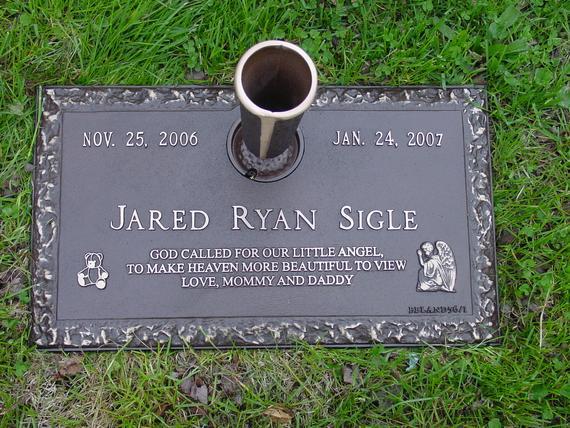 (Source: Etsy)
This flat grave marker is made out of bronze, a popular choice for grave markers and comes with some designs and a flower vase.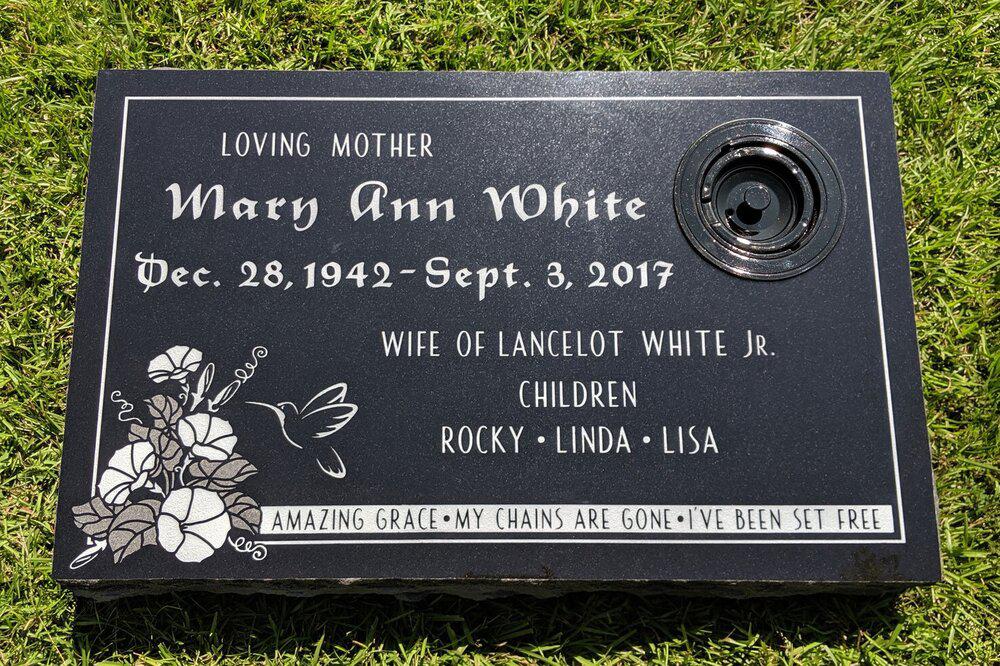 (Source: Brown Memorials)
This flat grave marker is a bit thicker than other flat markers and is made with darker granite. It includes an epitaph and some custom engravings as well and would sit a bit higher on the ground.
While headstones are important in marking the spot of a loved one, they don't provide much room for additional information on the person who passed away. Creating a memorial website on Ever Loved gives you the opportunity to make a digital headstone -- a place where friends and family can go to learn more about the deceased, their impact on others, and how much they meant to those around them.