How to Start a Memorial Fund
While it's customary to send flowers when someone passes away, more and more families are suggesting donations in lieu of flowers.
Memorial donations can be a great way to help cover funeral costs or other family expenses. Others choose to use memorial funds to raise money for a charity or other cause that was meaningful to the deceased. Many choose to use the funds to purchase memorial products in memory of their loved ones, such as a bench in a park or a brick in their favorite walkway.
Paying for a funeral
With the average funeral costing around $9,000, many families struggle to cover funeral costs. While there are several ways to save money on a funeral, even the savviest families can feel financial pressure—which is horrible, especially when added to the grief of losing a loved one.
As a result many families choose to create a funeral fundraiser and ask their friends and community members to consider making a donation to help cover funeral expenses in lieu of sending flowers. Families that choose to set up a fundraiser are often overwhelmed and humbled by the amount of support their friends and family will show during their time of need. Many have been caught off guard by the generosity of the community and are able to cover funeral expenses (and more) with the funds raised during their fundraiser.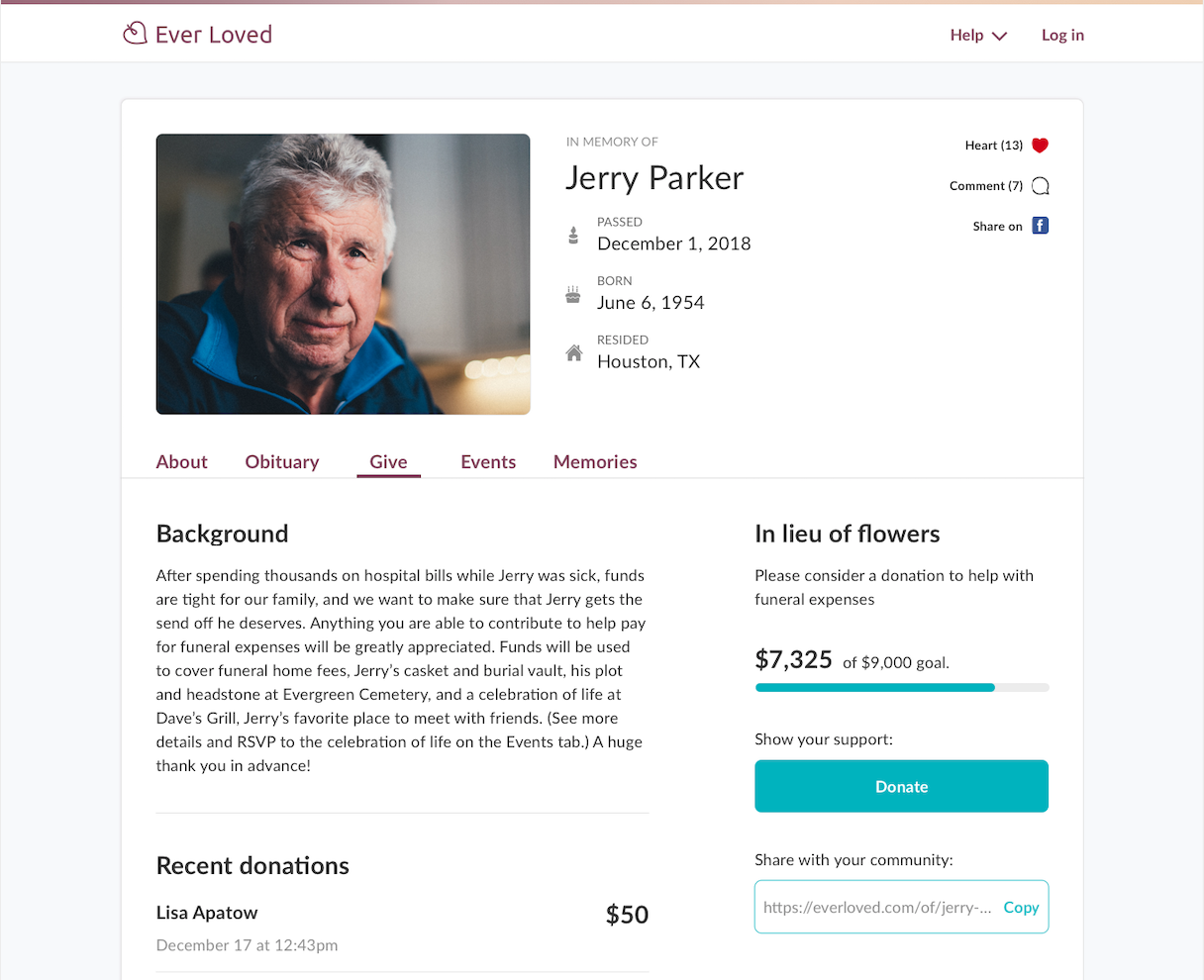 Supporting a grieving family
Even if funeral expenses have been taken care of, many families would still benefit from some amount of financial support after a death, due to the burden medical expenses or the loss of an income stream or support system. Additionally, many deaths are unexpected and funeral homes rarely accept payment at a later date, forcing families to oftentimes come up with large amounts of money, quickly.
Just as with funeral expenses, it's been becoming more and more common to set up memorial donations in lieu of flowers.
Memorial donations to charity
Other families choose to raise money for charity in lieu of flowers, as a way to continue the legacy of their loved one. Many people choose to donate to a charity that's working to cure a disease related to the person's death, such as cancer charities, heart disease charities, Alzheimer's charities, addiction charities and mental health charities. Donations to hospice organizations and hospitals are also common.
Others choose to raise money for causes that were particularly important to their loved one during the course of their life. Environmental groups, educational groups, religious groups, human rights groups, animal rights groups and many other charitable organizations can be great beneficiaries of a memorial donation campaign.
Carrying out the wishes of the deceased
Some families choose to start memorial funds in order to make sure that their loved one's wishes are carried out. This could mean starting a scholarship fund to ensure that their kids or grandkids can attend college, or a one of many other actions, such as getting their writing published or starting a new charity to support a cause they cared about.
Creating a memorial fund
Regardless of what you want to raise money for, it's easy to create a memorial fundraising campaign. Just follow these simple steps:
Set up a memorial website on Ever Loved and share some basic information about the person who passed away. You may also choose to include an obituary, if you wish.

Once you've created the page, you'll be guided through the process of adding more information. You'll be prompted to add information about a memorial fund, if you wish.

Enter information about the charitable or personal cause you're raising money for, and share a little bit about why the cause is important.

Optional: Add other information to the memorial website, like photos, funeral event information, your loved one's final resting place and more.

Easily share the memorial website with others via email, Facebook or by sharing the link. Friends and family members will be able donate directly through the memorial website, and the funds will be transferred to either you or the charity you've selected at the end of the memorial fundraising campaign. Ever Loved does not take a cut of donations, helping to ensure that the cause you're supporting receives the maximum impact.
Ready to raise money in someone's memory?