How to Start a Memorial Fund
While it's customary to send flowers when someone passes away, more and more families are suggesting donations in lieu of flowers.
Memorial donations can be a great way to help cover funeral costs or other family expenses. Others choose to use memorial funds to raise money for a charity or other cause that was meaningful to the deceased. Many choose to use the funds to purchase memorial products in memory of their loved ones, such as a bench in a park or a brick in their favorite walkway.
What is a memorial fund?
A memorial fund is a type of charitable fund that is set up to remember and honor a deceased person. The money in the fund is typically used to support a cause or causes that were important to the deceased person. Memorial funds cover a wide array of causes, such as:
Children: If the person who passed away had any kids, a memorial fund can be started to help cover the expenses incurred after losing a parent. These can include education costs, college funds, savings funds, and any fund used to cover expenses that the children might need covered.
Unexpected expenses: When someone dies, there's often many unexpected expenses that families are unprepared for. If the person who passed away was a primary contributor in the household, these costs can add up quickly. Memorial funds can be used to raise money to cover unexpected (and expected) expenses.
Nonprofit organizations: Many people have organizations or charities that champion causes close to their heart. It's common for folks to start memorial funds in memory of someone who has passed away who was either passionate about the cause the charity fights for or was personally impacted by the cause the charity is involved in.
Local community organizations: Was your loved one a part of any local community organizations? Churches? Sports clubs? Elk lodges? Hunting groups? Preservation organizations? These make excellent recipients for honorary memorial funds and fundraisers. Plenty of families choose to give back to their community or causes that their loved one was personally involved in after they've passed away.
Research & progress: Plenty of medical and scientific organizations rely on generous donors to fund their scientific endeavours. These organizations and causes can range anywhere from investigating a disease (such as Alzheimer's) to fighting for animal rights. Starting a memorial fund for any of these causes is a popular way to memorialize someone who has passed away that was interested in research and the progress of humanity.
Memorial products: Memorial products (such as park benches, bricks, fountains, gravemarkers) are very popular ways to memorialize someone who has passed away. These products often require a donation (especially if the bench will be installed in a public place), making these excellent causes for a memorial fund.
Why are memorial funds started?
There are many reasons why people choose to start memorial funds. Some of the most common include:
To keep the memory of a loved one alive: One of the most common reasons people start memorial funds is to keep the memory of a loved one alive. By donating to a cause in their name, they can ensure that their loved one's memory will live on.

To support a cause that was important to the deceased person: If the deceased person was passionate about a particular cause, starting a memorial fund is an excellent way to honor their memory. The fund can be used to support the cause they were passionate about, ensuring that their legacy lives on.

To help cover the unexpected expenses after a death: As mentioned before, there are often many unexpected expenses that come with death. A memorial fund can help families cover these costs and ease the financial burden during an already difficult time.

To give back to the community: Many people choose to start memorial funds as a way to give back to their community. This can be done by donating to a local organization or cause that was important to the deceased person.

To make a difference in the world: Some people start memorial funds as a way to make a difference in the world. This can be done by donating to a cause that is important to them or by supporting a cause that was important to the deceased person.
No matter what the reason, starting a memorial fund is a great way to honor the memory of a loved one.
How long do memorial funds stay active for?
There is no set timeframe for how long a memorial fund stays active. Some families choose to keep the fund open indefinitely, while others may close the fund after a certain period of time (such as one year, or until the goal amount has been met). Ultimately, it is up to the family to decide how long the fund will stay active.
If you are starting a memorial fund on Ever Loved, you are able to keep the memorial fund active indefinitely, or until you're ready to take it down.
Are memorial funds difficult to set up?
No, memorial funds are not difficult to set up. In fact, they can be quite easy to start and manage.
One of the easiest ways to start a memorial fund is through an online platform like Ever Loved. With Ever Loved, you can create a beautiful memorial website and fund in minutes and can start sharing the page with friends and family immediately -- all for free. Simply start a memorial website, set up the fundraiser, add your payment information and you're ready to go. You can connect the fund to a normal checking account or simply choose a charitable organization to direct donations towards.
Do I need a charity's bank account information to start a memorial fund for them?
If you're using Ever Loved to host your memorial fundraiser, you do not need to know the charity's banking information in order to host a memorial fund for them. Simply choose the charity from the database and share the site with friends and family. Donations are sent directly to the charity of choice through CharityVest, making it easy for you to honor your loved one without having to get super technical.
Paying for a funeral
With the average funeral costing around $9,000, many families struggle to cover funeral costs. While there are several ways to save money on a funeral, even the savviest families can feel financial pressure—which is horrible, especially when added to the grief of losing a loved one.
As a result many families choose to create a funeral fundraiser and ask their friends and community members to consider making a donation to help cover funeral expenses in lieu of sending flowers. Families that choose to set up a fundraiser are often overwhelmed and humbled by the amount of support their friends and family will show during their time of need. Many have been caught off guard by the generosity of the community and are able to cover funeral expenses (and more) with the funds raised during their fundraiser.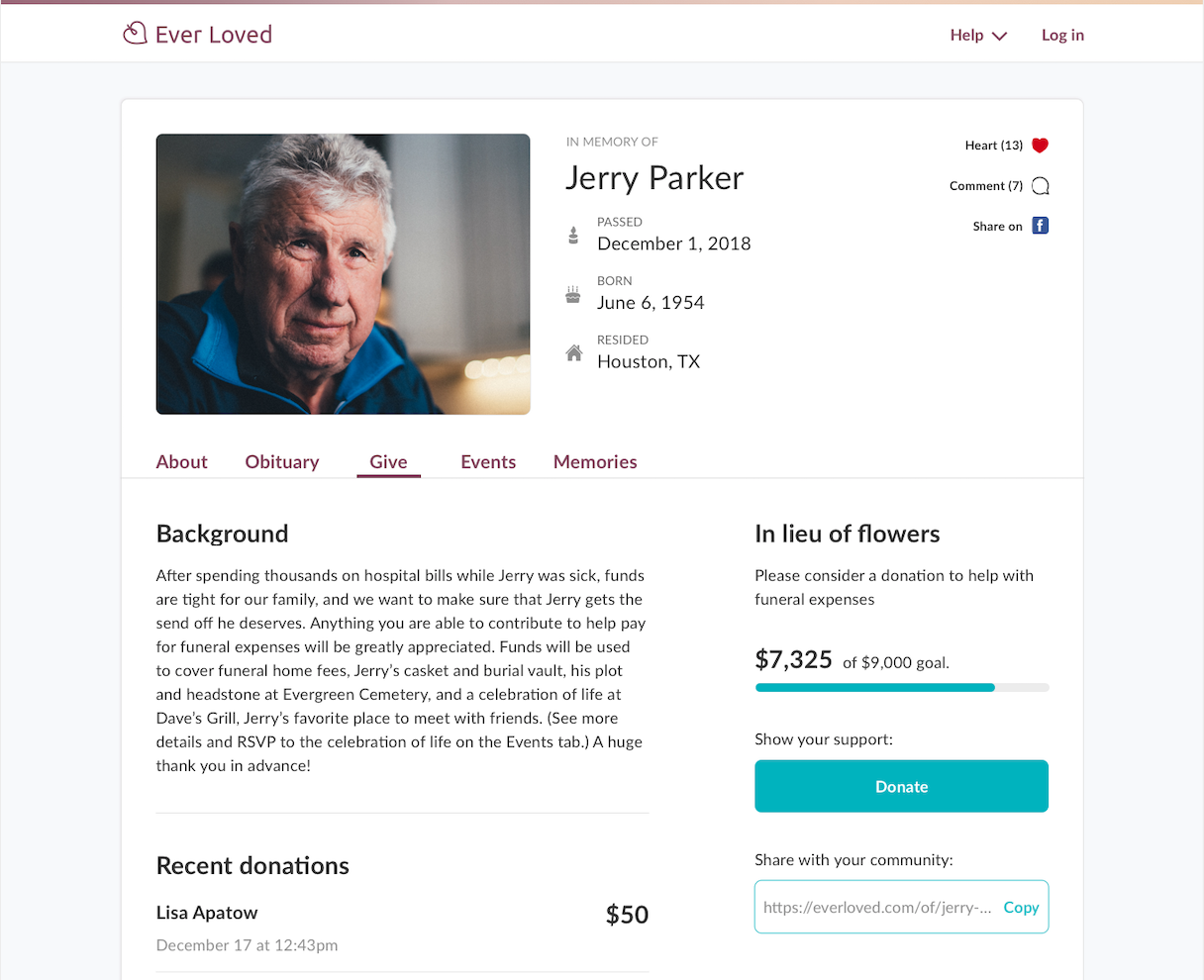 Supporting a grieving family
Even if funeral expenses have been taken care of, many families would still benefit from some amount of financial support after a death, due to the burden medical expenses or the loss of an income stream or support system. Additionally, many deaths are unexpected and funeral homes rarely accept payment at a later date, forcing families to oftentimes come up with large amounts of money, quickly.
Just as with funeral expenses, it's been becoming more and more common to set up memorial donations in lieu of flowers.
Memorial donations to charity
Other families choose to raise money for charity in lieu of flowers, as a way to continue the legacy of their loved one. Many people choose to donate to a charity that's working to cure a disease related to the person's death, such as cancer charities, heart disease charities, Alzheimer's charities, addiction charities and mental health charities. Donations to hospice organizations and hospitals are also common.
Others choose to raise money for causes that were particularly important to their loved one during the course of their life. Environmental groups, educational groups, religious groups, human rights groups, animal rights groups and many other charitable organizations can be great beneficiaries of a memorial donation campaign.
Carrying out the wishes of the deceased
Some families choose to start memorial funds in order to make sure that their loved one's wishes are carried out. This could mean starting a scholarship fund to ensure that their kids or grandkids can attend college, or a one of many other actions, such as getting their writing published or starting a new charity to support a cause they cared about.
Creating a memorial fund
Regardless of what you want to raise money for, it's easy to create a memorial fundraising campaign. Just follow these simple steps:
Set up a memorial website on Ever Loved and share some basic information about the person who passed away. You may also choose to include an obituary, if you wish.

Once you've created the page, you'll be guided through the process of adding more information. You'll be prompted to add information about a memorial fund, if you wish.

Enter information about the charitable or personal cause you're raising money for, and share a little bit about why the cause is important.

Optional: Add other information to the memorial website, like photos, funeral event information, your loved one's final resting place and more.

Easily share the memorial website with others via email, Facebook or by sharing the link. Friends and family members will be able donate directly through the memorial website, and the funds will be transferred to either you or the charity you've selected at the end of the memorial fundraising campaign. Ever Loved does not take a cut of donations, helping to ensure that the cause you're supporting receives the maximum impact.
Asking friends and family to contribute
Asking for money can feel awkward sometimes, but it's important to keep in mind that friends and family are often looking for any way they can contribute or help out after a loved one passes away. If you've set up a memorial fund and are stuck on how to ask people to donate, here are some examples:
As you all know, we lost [Name] this week and are looking for ways to honor [his/her/their] memory. We have set up a memorial fund in memory of [Name] with donations going towards [cause], a cause [Name] felt very strongly about. Donations are absolutely not expected, but are appreciated.
Our father struggled with [description] for much of his life, which is why we've started this memorial fund in his memory. All donations towards this fund will go directly to [Organization's name], an organization that does incredible work in the field of [field of research]. Without their contributions to science, many families and individuals would be struggling with [disease] without the proper support. Please consider making a donation towards this incredible organization.
My mother spent every other Saturday with the ladies of [local community organization]. Making our community a brighter, safer, and kinder place was part of the mission of [local community organization's name] and I know my mother would be thrilled to see this organization get the support and love they so deserve. In her honor, we've decided to establish an ongoing memorial fund that will help [organization's name] continue to provide these important services to our community. Donations are graciously appreciated but not required!
We all know just how much [Name] loved spending time at [park name] and we want to honor [his/her/their] memory by purchasing a bench in [his/her/their] favorite part of the park. We plan on having the bench engraved with [Name]'s name and a favorite quote of his and have been quoted a total of $Amount. Please help us reach this goal!
Ready to raise money in someone's memory?