What is a Hearse?
Have you ever wondered what those vehicles that transport caskets are called? Look no further for more information about this classic method of transportation during a funeral.
What's a hearse?
A hearse is a type of vehicle that a funeral home uses to carry caskets or coffins. The hearse can be driven by anyone, but it's usually driven by the funeral director. It's also called a "funeral coach," because hearses are vehicles designed specifically for funerals and not for normal driving. They have special features, like curtains so the casket can't be seen from outside, and they're used only in certain places where funerals happen. Hearses are typically used to get between places like churches, funeral homes, and cemeteries.
Why is it called a hearse?
The word hearse gains its meaning from the Latin word 'hirpex', meaning "a large rake." Hearses got their name from their original appearance, which mirrored that of specialty farming equipment at the time.
Hearse definition
A hearse is a vehicle which transports the body (in a casket or coffin) to a funeral, wake or burial. Hearses are also sometimes referred to as funeral coaches or mortuary limousines.
How to pronounce hearse
Hearse (/hərs/) is pronounced 'hurs'.
The history of hearses
In the 13th century, hearse was a term to describe a horse-drawn carriage that carried coffins or caskets. The hearse's popularity grew in Victorian times when they were seen as a status symbol for the wealthy. As the hearse became more popular, people began painting their hearse with bright colors and designs to make them stand out from other hearses.
Hearses have always been used for practical purposes. They were used to transport bodies of soldiers during World War I and II. During World War I and II, hearses were also used in France to pick up wounded soldiers and transport them to hospitals.
The first hearse manufacturer was the Dibble hearse company, which made horse-drawn hearses starting in 1858. Another hearse manufacturer was Lutz hearse company, which started making horse-drawn funeral carriages in 1850.
The first motorized hearse was built in 1903. The hearse was made by a hearse company called Diffenbacher's funeral coaches, which used a Cadillac hearse. Motorized hearses rose in popularity because they were faster than horse-drawn hearses, which allowed the hearse to keep up with longer funeral processions. By the 1920's, most hearse manufacturing companies had switched from making horse-drawn hearse coaches to motor hearse coaches because it was more profitable and the public demanded it.
Modern hearses
In the United States, hearses are usually manufactured by higher end brands such as Cadillac or Lincoln. Given the popularity of these two brands, you shouldn't be surprised if the hearse used for the funeral ends up being a Cadillac hearse. Hearses are typically colored black and have a bright chrome grill to add to their luxurious look.
Hearse funeral cars are used almost exclusively by funeral directors to drive the hearse from the hearse storage at the funeral home to where it is needed for a funeral service or processional.
What does a hearse look like?
Hearses (sometimes referred to as funeral cars, or funeral coaches) typically have two seats in the front of the vehicle. In the back of the vehicle there's a large empty space big enough to hold a casket. The back of hearses have large windows that are either seen through or covered with curtains, depending on the family's preferences. The back of the hearse car can sometimes also include flower arrangements that people can see through the windows, if the family prefers a more public display. Hearses can also come in the size of a hearse van which would be a much larger vehicle, meant to carry more in the back. The hearse van provides enough room for flowers as well as storage space for other elements needed at a funeral service or grave site.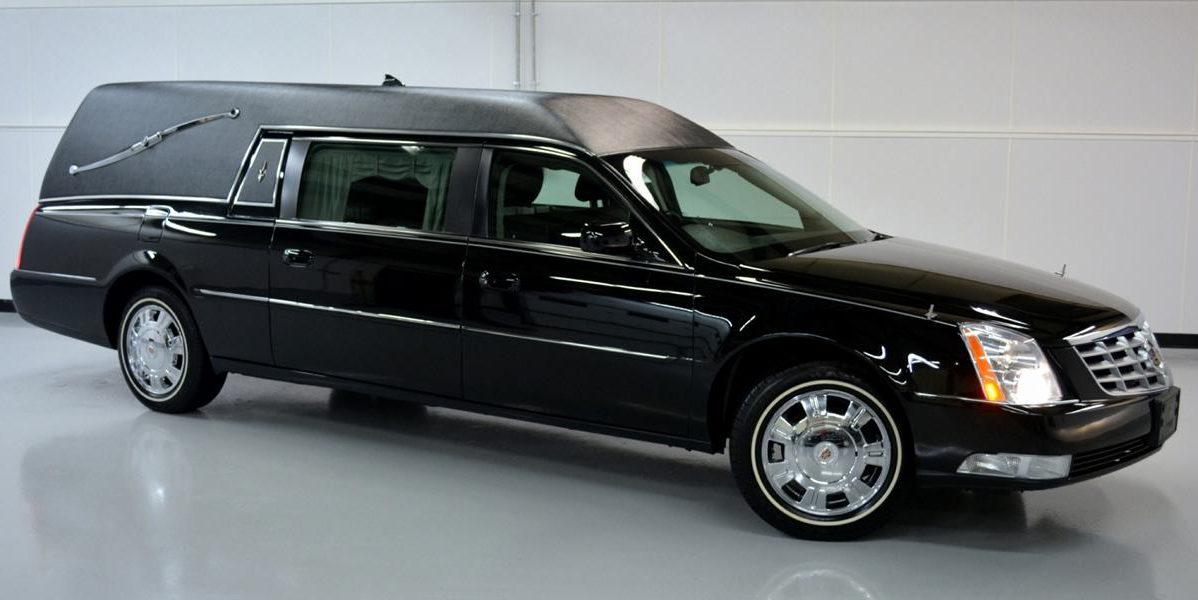 How much do funeral homes charge for hearses?
Funeral homes usually charge around $350 for hearse rental, which includes the hearse itself as well as the driver. The hearse that you see in display pictures may not be the hearse you end up getting, so if you have a specific manufacturer or style in mind, it may be worth reaching out to the funeral director or funeral home directly. Additionally, if you have no desire to use a hearse, they aren't required and you can chat with your funeral director about what options are available to you.
Do I need to have a hearse at the funeral?
There are no requirements for hearse rental or hearse use at funeral services. It's not necessary for you to pay a hearse rental fee, nor is it required by any law. If you choose not to rent a hearse, you'll need to arrange separate transportation of the body and casket to the desired location.
Speak to your funeral home about alternative transportation options if hearse rental is not desired by you or your family.
Can I drive the hearse myself?
Unfortunately, hearse rental is not something you can do yourself, since it's likely that you don't have a commercial driver's license. In addition to the driving requirement, hearse chauffers receive training in driving a hearse, along with the responsibilities that go alongside it. (Even if you're confident you can drive a hearse, it's not an option.)
Even a hearse rental fee can be a lot for some families to afford, especially if they aren't expecting a death. If you're struggling to pay for unexpected funeral expenses, starting a memorial fundraiser on Ever Loved is a great step towards getting help with funeral costs. Ever Loved memorial websites are free, easy to set up and easy to use.